Ssqr nwm mwlw
Shaster Naam Mala
(Garland of weapons)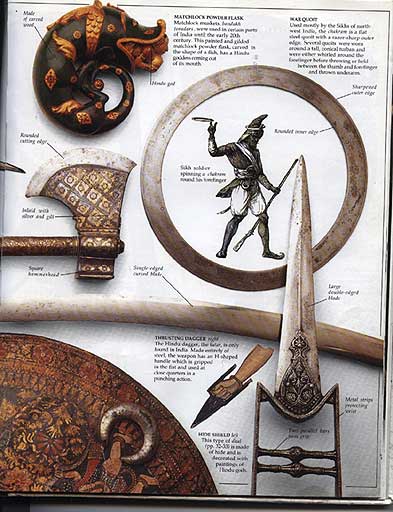 <sRI vwihgurU jI kI Pqh hY ]
ie`k (AduqI) E AMkwr vihgurU dI jY hovy [
The one (and only) Saviour - Unique Lord - Victory to thee.
sRI BgauqI jI shwie ]
sRI BgOqI jI (Akwl purK dI AnMq Aqy AsIm SkqI) dI shwieqw hovy [
Invocation to Sri Bhagauti (the eternal and infinite supreme power of God) for assistance.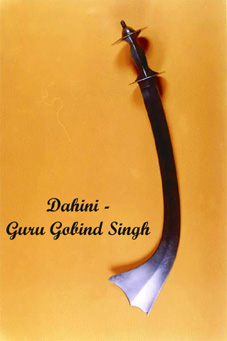 pwqswhI 10
dsm ipqw sRI gurU goibMd isMG jI mhwrwj dI aucwrn kIqI bwxI [
The narration (Bani) of the tenth Master Sri Guru Gobind Singh Ji.
dohrw] Couplet.
sWg srohI sYP Ais qIr qupk qrvwr [
s`qRWqk kvcWqkr krIAY r`C hmwr ]1]
sWg (brCI), srohI (isrohI ngr,rwjpUqwny ivc bxI bhuq kwt krn vwlI qlvwr), sYP (is`DI qlvwr), Ais (tyFI (Kmdwr) qlvwr dI iksm), qIr, qupk (CotI qop jW bMdUk) (Aqy) qrvwr (SqrU dw vwr rokx vwlI) [
s`qRWqk (KVg vYrI dw AMq krn vwlw), kvcWqk (kvcW nUM qoVn vwlI qlvwr), (ieh sB) swfI riCAw krn [
Spear, Sarohi (special sword made in Sarohi, Rajasthan), Saif (straight sword), Asi (bent sword), arrow, gun and Turwar (sword).
Satrantak (sword - destroyer of the enemy), Kavchantak (armour severing sword) -
(all these weapons) (kindly) protect us.
dohrw]
Ais ikRpwn Dwrw DrI sYP sUl jmdwF [
kvcWqk s`qrWqkr qyg qIr Dr bwF ]2]
Ais (qlvwr), ikRpwn qyz DwrvwlI, sYP (is`DI qlvwr), sUl (iqRsUl) (Aqy) jmdwF (ktwr do mUhW vwlI) [
kvcWqk (qlvwr dI iksm), sqrWqk (vfw KVg), qygw, qIr Aqy (qlvwr) DV nUM vFx vwlI [
Asi (bent sword), a very sharp Sword, Saif (straight sword), trident and Jamdaadh (dagger with two blades).
Kavchantak, Satrantak (large sword), Tega (broad & straight sword), arrow and (sword) that cuts through the torso.
Ais ikRpwn KMfo KVg qupk qbr Aru qIr [
sYP srohI sYhQI XhY hmwry pIr ]3]
Ais (iek iksm dI qlvwr), ikRpwn, KMfw, KVg, bMdUk, qbr (gMfwsw) (Aqy) qIr [
sYP (isDI qlvwr), isrohI, sYhQI (brCI), ieho swfy AwcwrX (gurU) hn [
Asi, Kirpan (sword), Khanda (double-edged blade), Kharag (sword), Gun, Tabar (battle-axe) and arrow.
Saif (straight sword), Sarohi, Sehthi (spear), (all these) are our Guru (guide).
qIr quhI sYQI quhI quhI qbr qrvwr [
nwm iqhwro jo jpY Bey isMD Bvpwr ]4]
qIr vI qMUhIN hY, brCI vI qMUhIN hY, (Aqy) qMUhIN qbr (gMfwsw) Aqy SqrU dy vwr rokx vwlI qlvwr hYN [
jo vI qyrw nwm jpdw hY auh ies Bvswgr qoN pwr ho jWdw hY [
You are the arrow, spear, battle-axe and sword.
Whosoever contemplates on your name crosses the ocean of life and death.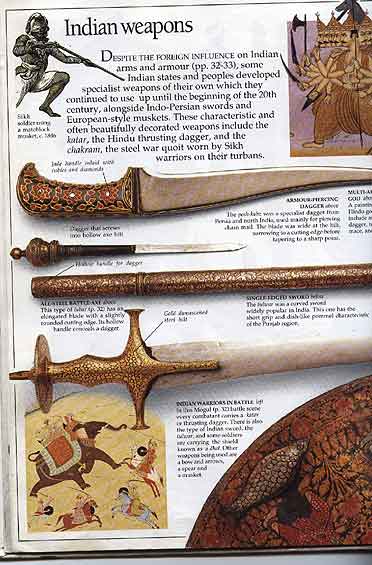 kwl quhI kwlI quhI quhI qyg Aru qIr [
quhIN inswnI jIq kI Awju quhI jg bIr ]5]
kwl vI qUM hI hY Aqy kwl dI nwSk kwlI vI qUM hI hY, (Aqy) qUM hI qyg (qlvwr) Aqy qIr hYN [
ivjY dI qMUhIN inSwnI hYN Aqy qMUhIN jg ivc bIr (bhwdr) hYN [
You are death and are 'Kali', the destroyer of death and you are the sword and the arrow.
You are the emblem of victory and the bravest of warriors in the universe.
quhI sUl sYQI qbr qUMN inKMg Aru bwn [
quhI ktwrI syl sB qumhI krd ikRpwn ]6]
qUhIN iqRsUl, brCI, gMfwsw (Aqy) qMUhIN inKMg (qrkS=B`Qw) Aqy bwx ho [
qUMhI ktwrI, syl (nyzw), krd Aqy ikRpwn vI sB qUhIN ho [
You are the trident, spear, battle-axe, the quiver and the arrow.
You are also the dagger, lance, karad (small sword) and the sword.
ssqR AsqR qumhI ispr qumhI kvc inKMg [
kvcWqk qumhIN bny qum ibAwpk srbMg ]7]
Ssqr, Asqr (jo PYNikAw jwvy), ispr (Fwl) (Aqy) qUMhIN kvc (sMjoA) hY Aqy inKMg (qrkS) hY [
kvcWqk (sMjoA dI nwSk qlvwr) vI qUMhIN bxI hYN Aqy qUMhI srb ivAwpk hYN [
You are the armament, shield, armour and the quiver.
The sword is your image and you are universally present.
sRI quUM sB kwrn quhIN qUM ib`idXw ko swr [
qum sB ko auprwj hI qumhI lyhu aubwr ]8]
qUMhIN srboqm Aqy swry kwrx (sb`b) qyry hI krky hn, qUMhI ividAw dw swr (incoV) hYN[
qUM swirAW dI pRiqinD Aqy swirAW nUM mukqI bKSdI hYN [
You are the supreme and doer of everything and are the essence of knowledge.
You represent all and confer liberation upon them.
qumhI idn rjnI quhI qumhI jIAn aupwie [
kauqk hyrn ky nimq iqnmoN bwd bFwie ]9]
qUMhIN idn Aqy qUMhINN rwq hYN Aqy qUMhIN jIvn dyx vwlI hYN [
cmqkwr krn leI qUhIN (jIvW ivc) ivroD (tkrw) krwauNdI hYN [
You are the day and you are the night and you are the granter of life.
To perform miracles you incite them to quarrel amongst themselves.
Ais ikRpwn KMfo KVg sYP qyg qrvwr [
r`C kro hmrI sdw kvcWqk krvwr ]10]
Ais (ktx vwlI qlvwr), KMfw, KVg, sYP (is`DI qlvwr), qyg Aqy qlvwr [
swfI riCAw hmySW kry (AY) kvcW nUM qoVn vwlI qlvwr Aqy krvwr(SmSIr=qlvwr)[
Asi (sword), Khanda, Kharag, Saif (straight sword), Teg (sword type) and Tulvar (sword).
Always protect us O armour breaking sword and karwaar (shamsheer=sword)
quhI ktwrI dwVH jm qUM ibCUE Ar bwn [
qopq pd jy lIjIAY r`C dws muih jwn ]11]
qUMhI ktwrI hYN, jmW nUM dwVHn vwlI Aqy ib~CU vrgy fMg vwlI ktwr Aqy qIr hYN [
Awpxy crnW ivc mYNnUM rKky myrI rkSw, Awpxw dws jwxky kro [
You are the Katar (which destroys the demons), Bichhua (crooked dagger) and the arrow.
(Please) let me prostrate at your feet, and protect me as your (humble) slave.
bWk b`jR ibCUE quhIN quhIN qbr qrvwr [
quhIN ktwrI sYhQI krIAY r`C hmwir ]12]
bWk (ifMg=qlvwr), b`jr (gdw), ibCUAw (ibCU dy fMg jyhw pyS kbz), qUMhIN hY Aqy qUMhIN qbr (CvI=gMfwsw) Aqy qlvwr hY [
qUhIN ktwr Aqy brCI hYN- swfI rkSw kro[
You are the Baank (kind of sword), mace, dagger, battle-axe and the sword.
You are the dagger and the spear - kindly protect us.
qumhI gurj qumhI gdw qumhI qIr quPMg [
dws jwn morI sdw r`C kro srbMg ]13]
qMUhI gurj, qUMhIN gdw Aqy qUMhIN qIr Aqy quPMg (bMdUk) hY [
Awpxw dws jwxky morI rkSw kro AY (srbMg) srbgX [
You are the mace, (knobbed) club, arrow and the tufang (matchlock musket).
Think of me as your slave and protect me O omniscient (power)
CurI klmirpu krd Bn KMjr bugdw nwie [
ArD irjk sB jgq ko muih qum lyhu bcwie ]14]
CurI, klmirpu (cwkU), krd, Bn (kihx nUM), KMjr, bugdw (iek pRkwr dw Kmdwr pySkbz), jo nwm hn [
swry jgq dy irjkW ( ieQy ArQ=mwXw) qoN mYnUM bcwE [
All these names - Knife, sharpening small knife, Karad (small symbolic sword), dagger, Bugda (a bent cutlass or dagger)
Please help me from all the worldly illusions.
ipRQm aupwvhu jgq qum qumhIN pMQ bnwie [
Awp qumhI Jgrw kro qumhIN kro shwie ]15]
sB qoN pihlW (qYN) hI jgq nUM ricAw hY Aqy qUMhIN (vKry) pMQ bxwey hn [
qUM Awp hI (ienHW ivc)JgVw krwauNdI hYN Aqy Awp hI shwieqw krdI hYN [
You have initially created this universe and also created (different) sects.
You create conflict amongst them and then help them resolve them.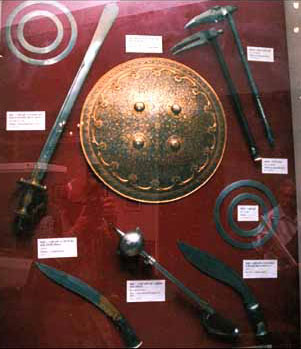 m`C k`C bwrwh qum qum bwvn Avqwr [
nwrisMG baUDw quhIN quhIN jgq ko swr ]16]
qUMhIN m`C, k`CU,vrwh Aqy vwmn Avqwr sYN[
nrisMG, buD (Avqwr) vI qUMhIN hYN (Aqy) qUMhIN jgq dI sMBwlx hwr hYN [
You were the incarnation of the fish, tortoise, boar and the dwarf (Waman).
Narsingh and the Buddha incarnations were also yours and you are the sustainer of the universe.
quhIN rwm sRI ikRSn qum quhIN ibsn ko rUp [
quhIN pRjw sB jgq kI quhIN AwphI BUp ]17]
qUMhIN rwm, sRI ikSn Aqy qUMhIN ivSnUM dw srUp ho [
qUMhI swry jgq dI pRjw hYN Aqy qUM Awp hI (BUp) rwjw hYN [
You were (Lord) Rama, Sri Krishna and you are the embodiment of (Lord) Vishnu.
You are the subjects and are also the Emperor of this universe.
quhIN ibpR C`qRI quhIN quhIN rMk Aru rwau [
swm dwm Aru fMf qUM qumhI Byd aupwau ]18]
qUMhIN bRhwmx Aqy kS`qrI Aqy qUMhIN grIb (prjw) Aqy rwjw hYN [
sulhw vI qUMhIN krdI hY, hrwauNMdI vI qUMhIN hYN, szw vI qUMhIN idMdI hYN, Aqy sB dw aupw vI qUM hI hYN[
You are the Brahmin and the Kashattaria and you are the pauper and the King.
You transact unanimity, vanquish them, penalise them and are an answer to everything.
sIs quhIN kwXw quhIN qY pRwnI ky pRwn [
qYN ibdXw jg bk`qR huie kry byd bKXwn ]19]
isr qUMhIN, srIr qUMhIN Aqy qUMhIN pRwxI dy pRwx ho [
qYN ivdXw j`g ivc bRhmW nUM idqI, ijsny vydw nUM ricAw [
You are the head, you are the torso and you are soul of the being.
You have granted knowledge to (the four faced) Brahma who has uttered the Vedas.
ibisK bwn Dnu KwgRBn sr kYbr ij`h nwm [
qIr KqMg qqwrco sdw kro mm kwm ]20]
ibisK (bgYr KMbW qoN qIr), bwx, Dnu (kmwx), KwgRBn (qIr jo AkwS ivc gmn krdw hY), sr (Pqih krn vwly) kYbr ( ivSyS qIr) jo ieh nwm hn [
qIr, KqMg (Kws iksm dI lkVI dw qIr), qqwrco (iek pRkwr dw qIr), (ieh sB) myrI ieCw (kwmnw) sdw pUrn krn [
Bisikh (arrow without feathers), arrow, bow, Khagarbhan (arrow, which moves in the sky), Kaiber (special arrow), are all names of victors.
Arrow, Khatang (a rare type of wooden arrow), Tatarcho (an unusual arrow), (all these) (kindly) always fulfil my wishes.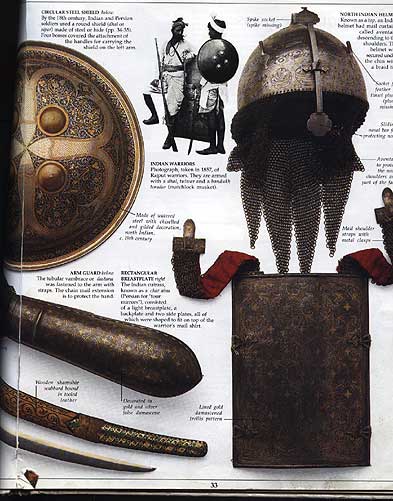 qYxIrwlY s`qR Air imRg AMqk ssbwn [
qum bYrn pRQmYN hnO bhuro ibjY ikRpwn ]21]
B`Qy ivc SqrU Aqy imRgW (jwnvrW dw iSkwr) dw AMq krn vwly ssbwn (cMdRbwx) ho [
pihlW Awpxy vYrIAW nMU pCwVdI hYN Aqy (AwpxI) ikRpwn nwl ivjY pWvdI hYN [
You are present in the quiver as the Sasbaan (special arrow with a half moon end), which kills and hunts the enemy and game.
You overpower your enemies and then proclaim victory with your sword.
qum pwts pwsI prm isiD kI KWn [
qy jg ky rwjw Bey dIA qv ijh brdwn ]22]
qUMhIN p`its (KMfw), pwsI (nyzw), prs (kuhwVw) hYN Aqy prm is`DI dI Kwx ho [
auh jg ivc rwjy ho jWdy hn ijnWH nUM qUM vrdwn idMdI hYN [
You are Patis (double-edged sword), spear, battle-axe and a mine of miracles.
They become kings in the world to whom you bestow your boon.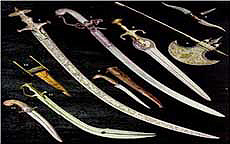 sIs s`qR Air AirXwr Ais KMfo KVg ikRpwn [
s`kR surysr qum kIXo Bgq Awpuno jwn ]23]
(duSmnW dy) sIs pDry krn leI vYrI dI vYrn qlvwr, KMfw, KVg Aqy ikRpwn) qyry hI nwm hn [
qYN Awpxw Bgq jwx ky dyviqAW dy rwjy (ieMdr) nuM s`kR (ivSyS) qIr bKiSAw hY [
The enemy of the enemy - the sword, khanda, kharag (large sword) and kirpaan (sword) are all your names.
You bestowed the Sakkar (special arrow) to your devotee, the king of the demi-gods (Lord Indra).

jmDr jmdwVw jbr joDWqk ijh nwie [
lUt kUt lIjq iqnY jy ibn bWDY jwie ]24]
jmDr (ktwr XMm dI dwhV jyhw), jmdwVw (do mUhW vwlI ktwr), joDWqk (XoiDAW dw AMq krn vwlw KVg Aqy qIr) - ieh jo nwm hn [
aus jbr(XoDy) nUM lu`t ku`t ilAw jWdw hY jo ienHW (SsqrW) nUM bMnHy bgYr Xu`D ivc jWdw hY [
Jamdhar (a dagger like a tooth), Jamdhara (a double faced blade), Jodhantak (sword and arrow that destroys warriors) - all these (weapon) names
The warrior who goes into battle without these weapons is badly hammered.
bWk b`jR ibCUE ibisiK ibrh bwn sB rUp [
ijn kO qum ikrpw krI Bey jgq ky BUp ]25]
bWk (qlvwr), v`jR, ibCUAw (pySkbz), ibisK (qIr), ibrh (KMBW vwlw qIr), swry qyry hI rUp hn [
ijnHW qy qYN ikrpw kIqI auh jgq qy rwjy hoey [
Baank (sword), mace, dagger, bisikh (arrow), Birha (arrow with feathers) - are all your identity.
On the ones you granted your benevolence, they became kings in this world.
ssqRsyr smrWqkr is`prw Air smsyr [
mukq jwl jmky Bey ijnY khXo iek byr ]26]
Ssqrsyr (SsqrW dw rwjw), smrWqk (XuD dw AMq krn vwlw KVg), isprw (qIr jo Fwl nUM BMn dyvy) Aqy SmSIr [
auh Xm dy jwl qoN mukqI pwauNdw hY ijsny iek vwr vI (qyrw)nwm ilAw [
Shasterser (King of arms), Samrantak (sword, which ends battle), Sipra (arrow, which breaks a shield) and Shamsher (sword).
He escapes the net of doom that mentions your name even once.
sYP srohI s`qR Air swrMgwir ij`h nwm [
sdw hmwry icq bso sdw kro mm kwm ]27]
sYP (is`DI qlvwr), srohI, s`qR (KVg), swrMgwir (qlvwr jo DnuS k`t idMdI hY) jo (qyry) nwm hn [
sdw myryy mn ivc vso Aqy sdw myrI kwmnw pUrn kro [
Saif (straight sword), Sarohi, Sattar (sword type), Sarangaar (sword, which cuts bow)- are all these names (weapons).
Invariably remain in my mind and constantly comply with my wishes.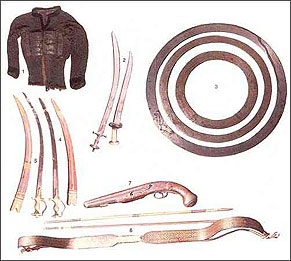 ieiq sRI nwm mwlw purwxy sRI BgauqI ausqq ipRQm iDAwie smwpqm squ suBm squ ]1]
sRI nwm mwlw purwx ivcoN sRI BgOqI jI dI ausqq dw pihlw AiDAwie SuB smwpq hoieAw [
The Glory of Sri Bhagauti in the first chapter of Naam Mala from the Puraan has been concluded auspiciously.