Gurleen Kaur is an artist of the soul and spirituality. She expresses herself through painting and Music. She is from the rare breed of artists who can express with great depth in both Painting and Music.

HER ART
Gurleen Kaur is a versatile painter. She was trained in Delhi College of Art from where she obtained her Bachelor of Fine Arts in Painting in 1985. She also holds a Masters in Drawing and Painting.

MEDIA
Gurleen Kaur is an accomplished artist with mastery in Oil on Canvas, Mix Media, Pen and Ink, Fabric and Water Color.

EVOLUTION AS AN ARTIST
For Gurleen Kaur, art took a new meaning in 1984 when she was an eyewitness to the Anti Sikh Riots in Delhi as a student of College of Art. This catastrophe changed the meaning of expression of feelings through painting for her - forever. One of her paintings on the theme of Delhi riots caused quite a stir in the College of Art Circles. As Gurleen puts it, art was now an entirely different experience. Her works since then have carried an unmistakable streak of these memories. This was the turning point in her evolution as an artist and prompted her into deep contemplation on the connection of Spirituality with Colors and Painting. Spirituality is the theme that runs continuously through her paintings in many creative ways!

STYLE
Gurleen Kaur paints in a unique style that can be described as an amalgam of Abstract, Real and Illustrative. While being adept in all the three styles, her unique ability is to blend these styles into a complete whole.

THEMES
Her favorite themes are Nature, Woman, Spirituality and Sikhism. Gurleen Kaur is teaching art for the last more than 23 years. These days she is teaching Interior Design to the students of a Polytechnic at Chandigarh

ART ACTVIST
Gurleen Kaur is a socially active artist who believes in the power of teaching Moral and Religious values to children through the medium of art. She has conducted many workshops for children to promote values through art on various Social and Moral themes. Over the last 25 years, she has been associated with many organizations promoting values through art and has served as an organizer and judge of many competitions held by voluntary organizations.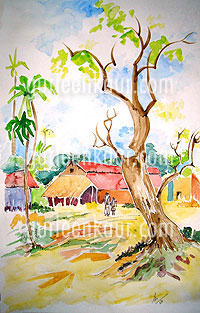 Landscape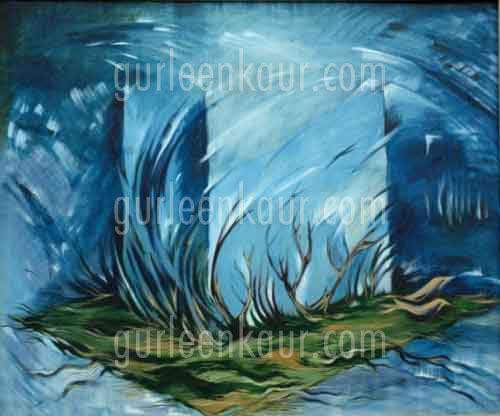 Rape of nature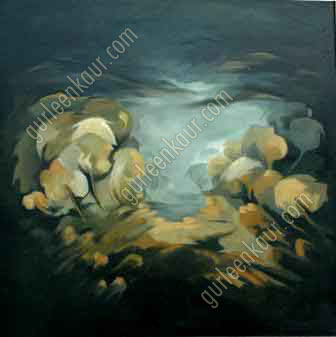 Hope
To see more of her art see her website at :http://www.gurleenkaur.com/