Sikh Heritage is proud to present two exceptional artists who are second to none
THE TALENTED TWINS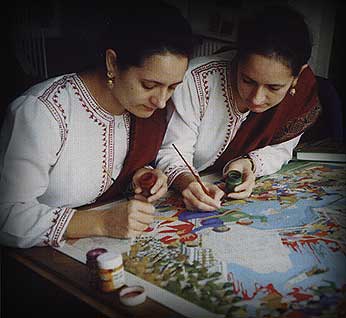 London born twin sisters Amrit and Rabindra are contemporary British artists of International standing whose award winning paintings have been acknowledged as constituting a unique genre in British Art and for initiating a new movement in the revival of the Indian miniature tradition within modern art practice. Describing their work as Past - Modern (as opposed to Post Modern), their work engages with important areas of critical debate - challenging existing stereotypes and redefining generally accepted, narrow perceptions of heritage and identity in art and society. Combining elements from Western and Eastern aesthetics they assert the value of traditional and non European art forms to the continuing development of Contemporary Art practice - exploring cultural, social and political issues of global significance within a highly decorative, often witty and symbolic style which has universal appeal and transcends cultural barriers.
With paintings in private and public collections world wide the Singh Twins continue to be invited to speak on their work at institutions such as the Tate Gallery, London; The Art Gallery of Ontario, Canada; The National Museum of Modern Art in Delhi and Mumbai; the University of California, Santa Barbara and the Asian Art Museum, San Francisco. At the same time a significant interest from academics, individual art students and University research graduates has resulted in their work being incorporated into the Open University syllabus and other sectors of Britain's formal education system.
As well as being profiled in numerous main stream publications including the Penguin History of Scotland and Marg Publication's New Insights into Sikh Art, their work is featured in two fine art books (Twin Perspectives and Past Modern) and has been selected for the next 'Pocket Art Series' by Roli books.
Having attracted International media attention, Radio and Television appearances include interviews for BBC's Womens' Hour, Mid Week and Belief; CBC's Here and Now and the Granada TV documentary Singh Out Sisters. An independently commissioned Arts Council film about their work, ('Alone Together') received 'The Best Film On Art' prize at the 2001 A solo International Film Festival. In the same year they were short-listed for the Asian Women of Achievement Awards (in the category of Arts & Culture) and in 2002 were appointed official Artists in Residence to the Manchester Commonwealth Games. The work they produced in response to the Games gained wide publicity and was even featured as a question on Who Wants to Be A Millionaire?
In 2002 their Arts Council England, British Council and Air Indian sponsored solo India tour was launched at the National Gallery of Modern Art, New Delhi - making them the only British artists (besides Henry Moore) to have been offered a solo show at this, one of India's foremost venues for Contemporary Art. In 2003 their work toured USA and Canada. Future plans include exhibitions in New Zealand and Australia.
Artists' statement
Our art and collaborative partnership developed largely in response to the serious criticisms we faced during our first degree for pursuing common interests and goals in developing personal styles which were not only deemed to be unacceptable because of their similarity, but because they were 'inappropriately' rooted in Eastern cultural aesthetics and our experience as British Asians.
Against this hostility our determined exploration of the Indian miniature style and established practice of working and exhibiting together (as well as dressing identically), is a political statement against the hypocrisy of an establishment which advocated self expression as the 'be all and end all' of Modern Art, yet denied the validity of anything which did not comply with the expectations dictated by a selective, Eurocentric perspective. Whilst asserting the right to define our own cultural and artistic 'individuality' in a way that is meaningful and true to who we are as British Asians, artists and twins our work, more importantly, redresses the need to re evaluate established cultural definitions, values and role models within the wider context of an evolving global society dominated by western consumer markets and popular culture. This is because ultimately, our artistic strategy is defined by a sense of responsibility to look beyond personal issues of identity towards exposing wider cultural prejudices and highlighting other concerns of more global significance. The desire to make a real difference through our work has fuelled our determination in establishing an international profile that demands acceptance on our own terms – creating a recognised platform for serious debate which has meaningful impact in challenging pervading social, political and cultural attitudes.
Considered amongst the freshest of the new British artists" (Daily Telegraph)
Rabindra and Amrit are twin sisters of Indian origin who have continued to work and exhibit widely over the past decade both in the UK and abroad. Born in London, in 1966, they moved with their family to Wirral, Merseyside in 1974 where they are now based. They received a Roman Catholic education at a local Convent school with the initial intention of following a vocation in Medicine. Their career in art developed quite by
chance when unforeseen circumstances pushed them instead to both read for a BA Hons. in Ecclesiastical History, Comparative Religion and Contemporary Western Art History in 1985-87. It was during this period that the Twins began to develop their unique style of painting largely in rebellion against the intense pressure they experienced to conform to Western models of contemporary art. They drew inspiration from the Indian Miniature tradition which captivated them some five years earlier when they visited India for the first time. By 1987 they had established this tradition as the most pertinent means of expressing their artistic and cultural identity. Whilst continuing to develop their chosen art form they went on to do postgraduate studies into popular and traditional Sikh art, each winning a highly competitive INTACH (Indian National Trust For Art And Cultural Heritage) scholarship in 1990 to carry out a year's field research in India. Taking a break from their research in 1992 they have since steadily built up a reputation as accomplished artists, receiving international media coverage and numerous awards for their paintings. Described as "both challenging and fascinating" (Dr Swallow, Victoria and Albert Museum) and as "some of the most optimistic images of our Multi-cultural world" (The Guardian), the Twins' paintings can be found in both private and public collections world wide. In 1994 they were elected as members of the Manchester Academy of Fine Arts.
Since they began exhibiting in 1987, their works have appeared in group shows at prime UK venues. These include The Mall Gallery (1993/94), The National Portrait Gallery (1995), London's Cork Street (1996) and the Whitechapel Gallery, London, as part of the widely publicised Arts Council of Great Britain touring show Krishna the Divine Lover (1997). Solo shows include: The Bluecoat Gallery, Liverpool (1994); Salford City Art Gallery (1994/5); Cartwright Hall, Bradford (1996); the Harris Museum, Preston (1997); a residency at Liverpool's Walker Art Gallery (1997) and a major UK tour from early 1999 - mid 2000 at various established galleries including Birmingham Museum and Art Gallery and the Glasgow Gallery of Modern Art. From late 1997 -early 1998 the Twins also toured Switzerland and France in an international group show with other selected top artists from Merseyside. In September 1998 they represented Liverpool painters again in the Cologne Festival of Liverpool Arts, Germany, and received invitations to exhibit at Paris in January 1999 and Amsterdam in 2000.
They have given several TV and Radio interviews and are the sole subject of two documentaries about their work: the first, a short film commissioned by The Arts Council of England follows the progress of a painting based on Princess Diana and the second, a Granada TV half hour documentary which formed one in a series of programs highlighting the cutting edge of the arts in the North West. Journal, maga:ine and newspaper coverage of their work includes articles and reviews in The Guardian, The Daily Telegraph, The Independent, India Today, Artist and Illustrator, The Artist, The Calcutta Telegraph and The Scottish Herald. They feature in Women of Substance - a book on successful Asian women in Britain - and were nominated to be profiled in Asians in the Millennium - the
definitive Who's Who of Asians in Britain. In 1998 they received a commission from the Sikh Foundation in America to write on illustrated book of poems (inspired hy a small selection of their paintings) as part ot the 1999 international tercentenary celebrations ot a major historical Sikh event - (the founding of the Khalsa in 1699).
In addition their works have gained wide public attention as well as significant interest from specific art audiences, especially fine art and design students at all levels who have used the Twins' work as case studies and inspiration for their own research and personal artistic development. They continue to be invited to give illustrated lectures on their work and have conducted educational workshops on different aspects ot Indian art and culture. In 1997 their personal interest in, and dedication to promoting Indian art led to them curating Zindabad 1997 - a major festival of South East Asian Arts (including traditional and contemporary Indian visual and performance arts, cinema and community events) celebrating 50 years of Indian independence. (Artists' Biography taken with thanks from 'Twin Perspectives' ) For more information log on to their web site: http://www.twinstudio.supanet.com/
The TWINS have not been short of awards and many more are in store for this talented duo in the near future. Some of the AWARDS presented to them are listed here:-
1985 Freeman and Guilds of the City of Chester Award for Creative Endeavour.
1986 Harold Oakley (St Peter's Saltley) Award.
1987 Freeman and Guilds of the City of Chester Award for Creative Endeavour.
1989 BBC North West 6th Open Annual Art Competition 'Special Category Award' for 'Pupoo in The Kitchen', and 'Vidaya' (Salford City Art Gallery)
1990-1 INTACH Scholarship award for Postgraduate study field research (India) into Sikh Art.
1991 Punjab Academy of Great Britain, Board of Academic Studies 'Honorary Award for outstanding contribution to Punjabi Arts'.
1990 British Linen Bank Award (Manchester Academy of Fine Exhibition) for 'Vidaya'
1993 Bank of Scotland Award (Manchester Academy of Fine Art Exhibition) for 'Morning Char'.
1993 Emerson Development Award (Manchester Academy of Fine Art Exhibition) for 'Wedding Jange'(No.2) (Inter phase).
1993 Mall Gallery Royal Institute of Painters in Water Colour and Windsor & Newton Young Artist Award, finalist for 'Interior with Dome'.
1994 Manchester Evening News Award (Manchester Academy of Fine Art Open Exhibition) for 'Les Girls'.
1994 'The Gallery' Manchester House of Art Award for Technical Excellence (Manchester Academy of Fine Art Exhibition) for 'All That I Am'.
1994 Mall Gallery Royal institute of Painters in Water Colour and Windsor & Newton Young Artist Award, Finalists for ' Wedding Jange' (no. 2) & ' Morning Char'.
1994 North West Arts Board 'Individual Artist's Development Award'.
1995 Award for Most Outstanding Two-Dimensional Work (St. Helens Open Art Exhibition) for 'The Last Supper'.
1995 'The Artist' Painting From Photographs Competition, Third Prize for 'Indian Street Scene.'
1996 P & P plc. Open Award ( Manchester Academy of Fine Arts Open Exhibition ) for 'Our Father'.
1996 North West Arts Board 'Travel Bursary Award' for 'artistic' promotional trip to America.
1996 Countess Enid Driscol - Spalletti Prize for watercolour (Royal Overseas League13th Annual Open Exhibition) for 'Nyrmla's Wedding' No.II.
1997 Nominee for 'Best New Talent' in the Merseyside Arts And Entertainment Awards
RADIO AND TELEVISION
1994 'Radio Merseyside' interview, Jan.
1996 West Midlands - Asian Network Radio Interview, 16th Feb.
1996 'BBC Television' interview for Midlands Today's 'Arts File', 29th Feb.
1996 'Birmingham Cable TV' magazine program interview, 12th March.
1997 'Radio Merseyside interview', 'Zindabad' Festival of Asian Arts exhibition, 5th August.
1997 Radio Merseyside interview, 'Zindabad' Festival of Asian Arts exhibition, 13th August.
1997 'Liverpool Live' Cable TV interview, 'Zindabad' Festival of Asian Arts, 19th August.
1997 'Radio Merseyside' interview, 'Zindabad' Festival of Asian Arts, 12th September.
1998 'Channel 1, London Cable TV interview ('Twin Images II' exhibition), February.
1998 Birmingham Radio, Birmingham exhibition preview, 18th June.
1998 'BBC Radio Asian Network'; Drive time', live radio interview on Princess Diana
1998 'Granada T.V'; Granada Tonight,' live feature on Princess Diana painting and 'Entwined',Thursday 29th August
1999 'Granada TV'; Granada Tonight, news feature, 24th November.
1998 'Granada TV', half hour, NWA documentary; Singh Out Sister'; 11th December
1998 'Radio MFM' News feature, Friday 11th December.
1999 'BBC Radio Asian Network',live interview with Sonia Dial, 25th January
1999 'BBC Radio Asian Network'; Drive Time, live feature, 16th March.
1999 'BBC Television'; Midlands Today, news feature, 18th March.
1999 'BBC Radio 4'; Midweek interview (with Libby Purves, Don McCullin and Chris Eubank), Wed. 14th April
1999 'Central and CarltonTV'; Eastern Mix magazine program feature.
1999 'A Twin Perspective'; Arts Council Of England commissioned documentary film.
1999 Huddersfield radio FM, Interview
1999 BBC Radio 4, 'Front Row' Arts program with Mark Lawson, invited guest to preview the TV program 'Secret Lives of Twins', 12th July.
1999 Hive Production, outreach video presentation for the 'enTWINed' exhibition at Huddersfield Gallery.
1999 Asian Television Marketing, profile of enTWINed,3rd October
1999 Radio Merseyside, Arts file with Angela Heslop, Liverpool Biennial and enTWINed review, 8th October
1999 Scottish Television, Seven Days Arts program, 14th November
1999 BBC Radio Scotland, 'The Brian Morton Show', interview/review of EnTWINed, 17th November

We are proud to present some of their masterpieces
( The themes of the paintings are so intricate that it is not possible in the web pages to show the minute details of the exceptional art work done by the artists):-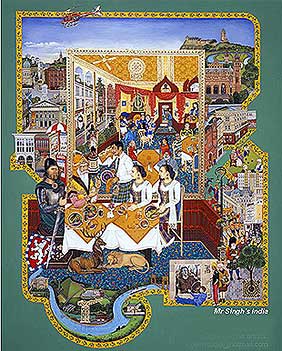 "Mr. Singh's India" by the twins - collection of Glasgow Gallery of Modern Art.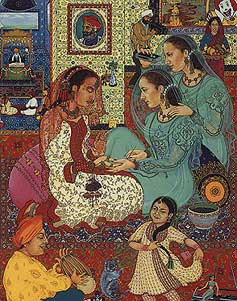 "Nyrmla's wedding" by Amrit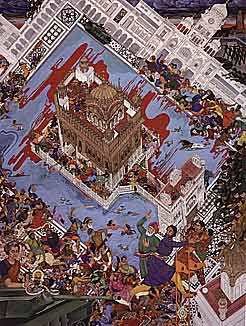 "Nineteen Eighty Four" by the twins shown the storming of the Golden Temple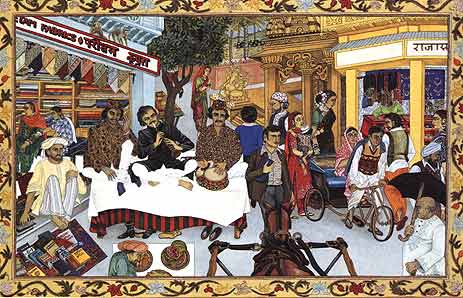 "Indian Street Scene" by Rabindra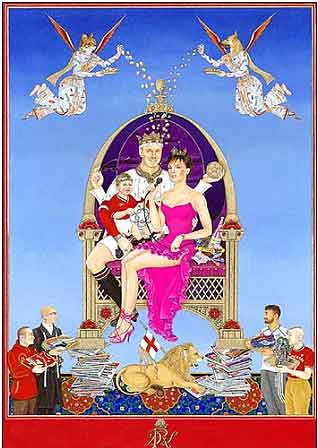 King of Football "Beckham" by the sisters.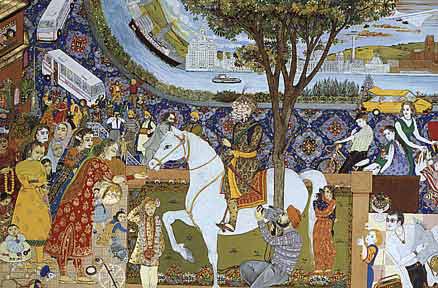 "Wedding jange " by Amrit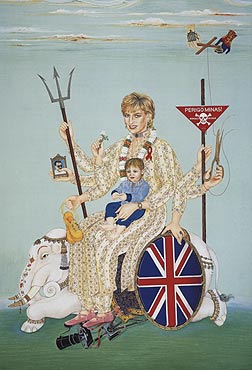 "Diana" by the twins.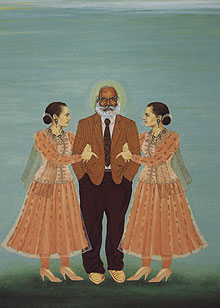 "Our Father" by Rabindra