The artistic expression of Arpana Caur is the distillate of a long period of struggle. It is not only the struggle of a determined and talented literary mother and her two daughters, one of whom met with a tragic end in Paris, but of the Indian people to free themselves from colonial rule. This history of ding-dong battles, beginning as peasant and tribal revolts almost as soon as the East India Company spread its tentacles over the country in the late eighteenth century, carried on relentlessly till India became independent in 1947. And naturally, it left an indelible stamp on our culture and expression.
The history of peasant revolts made the folk artist the natural ally of the national movement and of the post-colonial artist, re-establishing contacts with a continuity of culture even colonial brutality could not suppress, nor postmodernism obscure. But while it seemed a natural enough alliance in hindsight, it was not an easy one to forge at the time. The British and the Indian colonial elite encouraged both an imitative Victorian imagery married to Indian epic literature, as well as the revival of imperial miniatures, and stylised Ajanta figuration after failing to attract the Indian aesthetic elite to follow the colonial programme.

Even after Independence, Nehru tried to revive Gupta art, which has had a lasting influence on a number of our leading contemporary artists. Recently, the revival of Ravi Varma's art and bazaar kitsch by the neo-colonial elite in a globalising India gives us evidence of new threats. That contemporary artists, including Arpana, have been able to avoid these diversions is to their credit.

Arpana Caur went through this entire journey herself, unlike other artists who were given readymade solutions at art school. Having made a practical survey as it were, she chose definite options in her work from 1974 onwards. Her early figures remind one of the stocky, rounded treatment of Gupta aesthetics, which she later blended with influences from Chola bronzes and provincial Mughal styles of the Deccan and the Himalayan foothills. She then went the whole hog into collaborative works with folk artists and ended up evolving a visual expression that draws on folk motifs but expresses concrete present-day concerns as a sort of 'magical reality'.

At every stage, she had to make her own choice of visual language in relation to her own experiences, which differ from the ordinary in many ways. She was born into a Sikh family of medical practitioners who left Lahore during Partition and settled in Delhi in 1947. She was brought up in a family of strong women, as her mother left a stifling middle-class marriage to earn her living as a creative writer, with all the hardships it involved. And finally, she faced the trauma of the Delhi riots in 1984, when Sikhs, who regarded themselves as the sword-arm of India, and played a major role in its struggle for independence, were slaughtered by politically motivated rabble after the assassination of Indira Gandhi. All these events affected her life and art profoundly.
The unconventional nature of the life she has led has helped Aparna keep away from the conventional in art and strike out on a path of her own. That is why she remained firmly figurative while most of Delhi' artists were steeped in abstraction to one degree or another.

From - Song of Water, 2000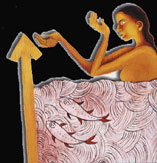 The incorporation of abstract and textured spaces in her compositions was a much later development in keeping with her slow and steady progress based on her own perception and experience. This is the basis of the authenticity of her art and its continuity.
Her earliest works are those of an outsider looking at the colourful world of galleries behind plate glass, but then there are works of the mid-' 70s that envisage the breaking up of that window to 'let the outside in'. In fact, the inside-outside theme predominates in her work of this period. She contrasts the drabness of one sphere with the brightness of the other. What is interesting is that the duality does not hold her down. Sometimes the inside is drab, sometimes the outside. She is her own master.
This comes out much more forcefully in the first of her original images: The Child Goddess. Here she portrays a nude girl lecturing to several nude figures who are immersed in their own concerns and not listening to her. They could well be statues. These images appear to contain the germ of a future series in them: the one of a performer without an audience. They recur again and again in different contexts in her works, growing in subtlety and sensitivity over the years.
The blatantly disinterested crowd the child-goddess is addressing becomes the audience whose absence is indicated in The Missing Audience series of 1981, through empty chairs: and finally, people are pictured as visibly immersed in petty day-to-day concerns, ignoring riot victims floating past or dead bodies lying on the ground, in her series - World Goes On. This series, painted from 1984 onwards, reflects a growing sensitivity in her portrayal of reality.
From World Goes On series, 1984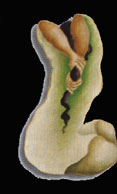 The audience in The Child-Goddess series, is stone deaf, but present. In The Performance series, it is absent. Both these, however, do not capture indifference in all its complexity as do the images of people living their daily lives, doing mundane things, while riot victims float past them unobserved. This demands considerable artistic depiction and reflects the real flowering of this image. The fact that we are able to trace this image of the mid-'70s, evolving in different conditions and emerging as a hard reality in the '80s, not only of present-day India, but of a world being continually desensitised by a flood of information and making a spectacle of everything, including appalling human tragedies, reflects how her art is genuinely a product of the progress of her life and times and not borrowed stuff.
The continuity of this image over decades, drawing different elements into it and enriching it visually, reveals her to be very much an artist with her own agenda. She is neither influenced easily nor given to chopping and
Working on the Time
mural in Hamburg,
with Sonke Nissen,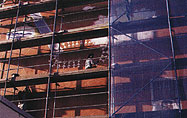 2000
changing her expression with what is fashionable at the time or to please the market forces. She always has a message to give: this dictates the large size of her works, such as a massive mural done in collaboration with a German artist, covering four storeys of a five-storeyed building in Hamburg.
This monumentality, both of her themes and their visual representations, gives her work the historicity of classical artists, like the muralists of Ajanta. This is why a number of museums, like the Victoria and Albert and the Bradford Museums in Britain, the Kunstmuseum in Dusseldorf, Germany, the Hiroshima Museum of Modern Art and the Glenbarra Museum in Japan, the Ethnographic Museum in Stockholm(Sweden), the Singapore Museum, the National Gallery of Modern Art (NGMA) and other museums in India, have chosen to acquire her works. However this history is personalised with the artist as the centre of her world which has the stampof comtemporaneity on it.
And yet, there is nothing narrow about the way she visualises these themes, using time-tested images in a new context. This helps her art to convey its freshness without sacrificing its mainstream quality.
The tree, a prominent feature of the Time Image series, 1990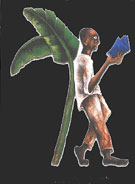 Take, for example, her use of the umbrella as a visual. In her earliest work it is a protective device. Starting out as a distinguishing feature in images of women who are protected and those who are not, in The Sheltered Women series, it takes the form of a human being, in her mother and daughter images; of a banana leaf in her Time Image series and in some of the images in her Resilient Green series, or even a Guru Granth Sahib protecting her grandfather carrying his belongings in a sack from Pakistan in her Partition series. There is a universality of discourse in the images she uses but the context is personal.
It is drawn from many different sources. There are images from ritual, like the umbrella; from legends, like the woman with scissors, reminiscent of the classical Greek myth of the Fates; the upturned Kalpavriksha of Hindu mythology; or from the poetry of Nanak and Kabir, as in The Body is Just a Garment series. Then there are physical images of the Tirthankaras, the Buddha, Ghalib, Bhagat Singh, Udham Singh, and even the popular image of Raj Kapoor and Nargis under an umbrella from the film Shri 420. There is also the global image of a bombed-out public building of Hiroshima that the nuclear threat posed by imperialism has given worldwide significance to, in a work commissoned by the Hiroshima Museum for the fiftieth anniversary of the holocoust. Lately, she has added images from the folk-art of the Warlis and of tattoo artists of the Godna tradition to her repertoire.
But then she shifts the focus of these to her personal contemporary view of things. There is nothing reverential about it, as we can see from the figures of saints plugging in to the Tree of Enlightenment, or of Khushwant Singh's Train to Pakistan cutting across the dialogue of Bhagat Singh and Gandhi on violence and non-vio\ence. These are personal statements, like her letters to Ghalib, that we fine tune into, after the initial contact with existing and known images is made, giving them universal relevance beyond mere authenticity.
What really makes them stand out, however, is her unselfconscious way of expressing these realities as she does in her goddesses of the past and present, contrasting the devi figure with that of a female building-labourer carrying bricks. Her art is remarkable in the simplicity with which she presents a radical view of the realities of our lives, using images that we are used to, in a new context. She confronts us with images of policemen firing at angels in the sky; of trees as providing both shade and a butt for a gun;
Night and Day, 6' x 4', oil on canvas, 1998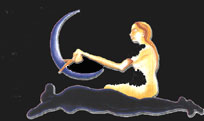 of neatly-lined kitchen knives; of houses burning; of widows with shaved heads drowning in the Ganges; of forms that remind us of Renaissance art with cherubs in the sky; of miniatures of satis; of popular ritual images of gods and goddesses; so we are repelled, but not so much that we refuse to think of these things.
Structurally she achieves this by confronting us with dualities: figurative and abstract, monochromatic and polychromatic, the single image and its multiple reproductions, men and women, day and night, land and water ... She is always alive to the fact that everything has two sides to it. She could have left it at that. But she does not want to sit on the fence safely. She takes sides, and with a very clear perspective of a future where humanity confronts oppression; peace confronts war; and the environment, pollution. Hers is an art of hope and of a sense of liberation on a grand scale. And a world becoming smaller every day takes to it naturally.
(Article taken with thanks from 'The art of Arpana Caur, by Suneet Chopra with photos of paintings by Brig.D.J.Singh) We present more of her art below:-