(1915-84)
Among the leading progressive Urdu writers of the 20th century, Rajinder Singh Bedi was also a prolific screenplay and dialogue writer. Born in the Sialkot district of present-day Pakistan, Bedi started his career with the All India Radio in Lahore. He later became director of the Jammu and Kashmir Broadcasting Service.
As a writer, Bedi emphasized craftsmanship rather than mere creativity. He is credited with having introduced the khari bolt - "the common man's prose" - into the rather high-flown, poetic style of Urdu literature. This simplicity of style marks his work in films as well.
Bedi joined the film industry in the late 1940s as a screenplay and dialogue writer. His major credits include Sohrab Modi's Mirza Ghalibl Raj Khosla's Milap, and Bimal Roy's masterpieces, Devdas and Madhumati. His sensitivity as a writer was perhaps best revealed in the dialogues of Hrishikesh Mukherjee's Anuradha and Anupama. Bedi also adapted the Gogol classic The Overcoat into Garam Coat.
Bedi made his debut as a director in 1970 with the critically acclaimed Dastak. Two of his highly acclaimed works, Gmhan and Ek Chadar Maili Si were filmed in 1972 and 1986, respectively.
Bedi won the Filmfare Award for Best Dialogue Writer in 1958 for Madhumati and in 1970 for Satyakam. His Ek Chadar Maili Si won the Sahitya Akademi Award in 1971. Bedi's son, Narinder Bedi, was the director of the hit musical romance, Jawani Diwani,
SELECT FILMOGRAPHY
1954: Mirza Ghalib; 1955: Devdas; Milap; Garam Coat; 1957: Ab Dilli Door Nahin; 1958: Madhumati; 1960: Bambai Ka Baku; Anuradha; 1961: Memdidi; 1964: Dooj Ka Chand; 1966: Anupama; 1970: Dastak; Satyakam; 1972: Grahan; 1973: Phagun; 1978: Aankhon Dekhi; Nawab Sahib; 1986: Ek Chadar Maili Si.



(b. 1935)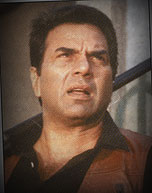 Dharmendra remained a top Hindi film star for three decades creating an influential image as a markedly North Indian (Punjabi) macho man devoted to his mother and committed to upholding the honour of his family or the village.
He was born Dharam Singh Deol in Phagwara, Punjab and was fascinated with films right from childhood, often travelling miles to frequent the touring cinema. (He remembers going to see Dillagi (1949) starring Suraiya at least 40 times!). He was married at the age of 19 and took up a job with an American Drilling Company boring tubewells. Fortunately for him, he was noticed in a Filmfare spot-the-talent contest and came to Bombay to become an actor. He was signed by Arjun Hingorani for Dil Bhi Tera, Hum Bhi Tere (1960), his first film as hero for Rs 51 as signing amount and a daily breakfast that was to contain strictly of tea, two toasts and butter but no jam! Ironically, after all the struggle he went unrecognized at the premiere of the film and sneaked back home on a train.
However strong, supporting romantic lead roles in women oriented films like Anpadh (1962) with Mala Sinha, Bandini (1963) and Soorat Aur Seerat (1963), both with Nutan brought Dharmendra to the fore. A liaison with Meena Kumari saw the two of them starring together in a series of films.
Phool Aur Patthar (1966) finally made Dharmendra into a star. As the ruffian Shaka, Dharmendra combined muscles and sensitivity to give Shaka a human touch. And when he whipped off his shirt in the film, for the first time Hindi filmmakers woke up to the need to cater to female sexuality.
In one of the most sensuous scenes in Hindi films, Dharmendra leans over a sleeping Meena Kumari only to finally cover her up.
Most of Dharmendra's earlier films were soft romantic films, many of which presented a secularized Hindustani version of Bengali literary stereotypes, starting with Bimal Roy's Bandini and continuing with Hrishikesh Mukherjee's 60s socials - Anupama (1966), Manjhli Didi (1967) and Satyakam (1969). He mainly played the nice, romantic, handsome hero and was in fact voted as one of the five most good-looking men in the world in the 1960s.
Satyakam saw Dharmendra giving perhaps his greatest ever performance as an idealist seeing his dreams crumble after Indian Independence. It was a sensitive, nuanced performance of an honest, committed man who perseveres with his philosophy of total truth even when it brings about his downfall and one that was straight from the heart. The scene in which he is dying where he just had to emote with his eyes as his estranged father berates him, represent some of the the finest moments in Dharmendra's acting career.
The 1970s saw Dharmendra take to the action genre like a fish to water. (The seeds of this were seen earlier in films like Aankhein (1968), a James Bond style thriller following the success of Phool Aur Patthar) He was prefect as the pistol packing hero threatening the villain - No one could tell the villain, "Kaminey, Main Tera Khoon Pee Jaoonga!" more convincingly than 'Garam Dharam!' Films like Mera Gaon Mera Desh (1971), Jugnu (1973), Kahani Kismet Ki (1973), Yaadon ki Baraat (1973) and
Sholay (1975) swept the box-office largely due to Dharmendra's brawn show!
Sholay (1975) and Chupke Chupke (1975) revealed another facet of Dharmendra - his flair for comedy. Even though the former was a large scale action drama, Dharmendra's comic scenes with Hema Malini - feeling her up on the pretext of teaching her how to fire a gun or speaking to her as the 'voice of God' or of course his 'soo-cide' scene with her aunt, him atop a water tank and threatening to jump if she didn't marry her niece to him - were among the many highlights of the film. And Chupke Chupke saw him single-handedly carry Hrishida's whacky comedy of a botany professor who impersonates a driver to spend some precious time with his wife at her brother-in-law's place! It is a masterful performance with razor sharp comic timing.
Dharmendra also formed a hugely successful pairing with Hema Malini, the two of them doing a string of hit films together - Naya Zamana (1971), Raja Jani (1972), Seeta Aur Geeta (1972), Jugnu, Dost (1974) and Sholay among others. They fell in love and Hema became his second wife. Dharmendra and Hema went on to have children as well but so strong was her morally upright image that she was able to go through the marriage without being slandered by press or public which in fact more than accepted the union.
The 'Garam Dharam' act was perfected in the 1980s by Hindi filmmakers as Dharmendra was cast as the invincible hero bearing colloquial names like Veeru Dada, Hathoda Singh or Sherdil who was locked in mortal combat with the villain. But his films were largely undistinguished and of poor quality even if a couple did score at the box-office. (Aag hi Aag (1987), Hukumat (1987))
In fact, among Dharmendra's later films in the 1980s and 90s, his work with director J.P. Dutta stands out - Ghulami (1985), Yateem (1988), Batwara (1989), Hathyar (1989) and Kshatriya(1992). The films barring Hathyar were mainly set in feudal Rajasthan featuring conflicts among the Jats and the Thakur Zamindars with Dharmendra usually playing a powerful charismatic leader who unites the people against the oppressive thakurs.
Dharmendra has successfully launched both his sons Sunny (Betaab (1983)) and Bobby (Barsaat (1995)) as leading men and today his daughter from Hema Malini, Esha Deol, too is all set to make her debut in films. Though he shockingly won no major awards throughout his entire career, Dharmendra was awarded the Filmfare Life Achievement Award for his contribution to Indian Cinema.

One of the most popular actors of Hindi cinema, Dharmendra has been acting for well over three decades. From Phool Aur Patthar and Satyakam to Sholay and Chupke Chupke, his performances have been as varied as possible.
Born in Phagwara, Punjab, Dharmendra Deol was fascinated by cinema from an early age. He worked with an American drilling company before filmdom lured him.
Dharmendra's film career began in 1955 with Railway Platform. His early films such as Bandini and Anpadh had him playing significant roles that served to bring him into the public eye. He acted in Hrishikesh Mukherjee's socials of the 1960s including Anupama, Manjhli Didi, and Satyakam and in Phani Majumdar's Akashdeep. His performance as a committed idealist in Satyakam was highly appreciated.
In the 1970s, Dharmendras roles in films such as Raja Jani, Jugnu, Sholay, and Dharam Veer helped him develop a powerful image as a macho hero. That image notwithstanding, Dharmendra slipped with ease into lighter roles that required las seen in comedies such as Guddi and Chupke Chupke. His more successful films in the late 1980s include Hukumat and Aag Hi Aag.
Later in his career Dharnendra turned producer and launched his two sons.Sunny and Bobby Deol, into films with Betaab and Barsaat respectively. His most recent production, featuring both sons, was The Legend of BhagatSingh. His daughter Esha is alsc a film actress. Dharmendra has received the Filmfare Lifetime Achievement Award for his contribution to Hindi films.
SELECT FILMOGRAPHY
1955: Railway Platform; 1960: Dil Bhi Tera Hum Bhi Tere; 1961: Shola Aur Shabnam; 1962: Anpadh; 1963: Soorat Aur Seerat, Bandini; 1964: Haqeeqat, 1965: Akashdeep; Kajal; 1966:Anupama; Phoolk aur Pathar,1967:Manjhli Didi; 1968: Baazi;Mere Humdum Mere Dost, 1969: Aaya Sawan Jhoom Ke; Satyakam; Khamoshi; 1970: Jeevan Mrityu; Mera Naam Joker; 1971: Guddi; Mera Gaon Mera Desk; 1972: Seeta Aur Geeta; Raja Jani; Samadhi; 1973: Jugnu; Jwar Bhata; Loafer; Yaadon ki Baraat; 1974: Dost, Kunwara Baap; 1975: Cbupke Chupke; Sholay; 1976: Charas; 1977: Chacha Bhatija; Dharam Veer, Kinara; Swami; 1978: Azad; Shalimar, 1980: Ram Balram; The Burning Train; 1981: Professor Pyarelal; Naseeb; 1983: Andha Kanoon; Razia Sultan; Betaab; 1984: Raj Tilak; 1985: Ghulami; 1986: Sultanat, Loha; 1987: Aag Hi Aag; Hukumat, 1989: Batwara; Hathyar, 1990: Veeru Dada; 1992: Kshatriya; 1993: Kundan; 1995: Fauji; Barsaat; 1996: Aatank; 1998: Pyar kiya To Darna Kya; 1999: Dillagi; 2000: Sultan; dacait
(Amitabh Bachchan- no doubt is the finest actor of the Indian Screen, but Dharmendra has always dominated him in movies where they starred together e.g. Sholay, Chupke Chupke & Ram Balram. (kanwal)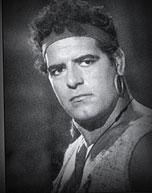 A professional wrestler and stunt film actor, Dara Singh was born in Dharmuchak, Punjab. His career in cinema began with fighting on-screen bouts; these fight sequences often had little to do with a films storyline and were added merely to increase a films mass appeal. Babubhai Mistris King Kong saw Singh play hero for the first time and led to a series of highly successful B-grade stunt films such as Rustom-e-Hind, Faulad, Samson, and Sikander-e-Azam. He was also the favourite to play the roles of Hanuman, Bhim, and Balram in the mythologicals.
Singh set up Dara Films in 1970 and produced and directed Punjabi devotionals such as Bhagat Dhanna Jat. His innings in television began with Ramanand Sagar's epic serial Ramayan, where he was cast as Hanuman. He continues to do character roles in films and act in television serials.

SELECT FILMOGRAPHY
Acted: 1954: Pehli Jhalak; 1962: King Kong, 1963: Faulad; 1964: Samson; 1965: Rustom-e-Hind; Sikander-e-Aziim; 1966: Naujawan; Veer Bajrang, 1967: Sangdil; 1968: Thief of Baghdad; 1970: Anand; Mem Naam Joker, 1974: Kunwara Baap; 1976: Bajrang Baii; 1978: Nalaynk; 1982: Main Inteqam Loonga; 1985: A/W; 1986: Karma; 1990: Nakabandi; 1991: /4/oo£«; 1995: /fom S/Vw/ra; 1997: Lav Kush; 1999: Dillagi; 2000: Duihan Hum Le Jayenge.
Acted and directed: 1973: Mera Desh Mera Dharam; 1978: Bhakti Mein Shakti; 1982: Rustom.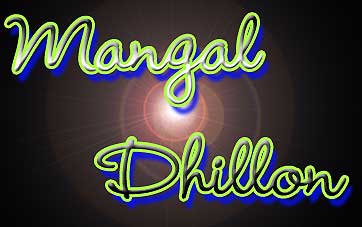 We proudly present a profile of a very multi talented artist who may not be as popular as Amitabh Bachchan or a few more but looking at his record he is second to none.A very sociable and friendly person with a strong character to match. We have taken with thanks some information from his personal web site:.http://www.mangaldhillon.com , which has a detailed information on him.(Kanwal)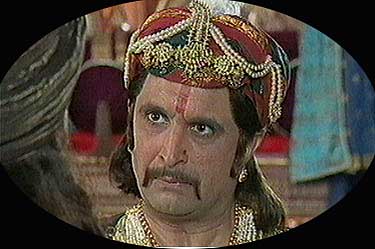 Mangal Dhillon as Emperor Akbar in the serial 'Noorjehan'
Mangal Dhillon is a multidimensional person, who is an Actor, Writer, Producer, Director and a Poet. He was born in a small village called Wander Jatana, in Distict Farid Kot, Punjab, India on 18th June. He did his matriculation from Nighasan a place in district Lakhimpur Kheri-U. P. And Graduation from Government College, Muktsar. He used to act in plays etc. since school and college times, which inspired him to join the Department of Indian Theatre at Punjab University Chandigarh in 1980. He was awarded a Gold Medal for his out standing performances as an actor at the completion of his training by the University-Drama Department. He did a lot of theatre from 1978 to 1987 as an actor-writer-director and taught acting at various institutions. He worked in Doordarshan Serials and Radio Plays besides doing commercial voicing in New Delhi and Mumbai for couple of years. In 1987 he got the role of Lubhaya Ram in Ramesh Sippy's T.V. Serial "Buniyaad", which laid his foundation stone in the Mumbai Film and Television Industry. After Buniyaad he worked in almost 25-30 Hindi Feature Films and Television Serial, prominent amongst them were Yugandhar, Lakshman Rekha, Nishana, Vishvaatma, Khoon Bhari Mang & Azad Desh Ke Ghulam besides Television Serials like Junoon, Panther, Ghutan, Sahil, Mujrim Hazir, Kismat and Noorjahaan.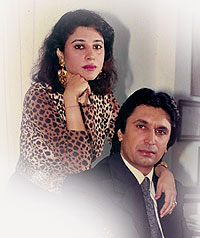 He married a prominent painter Ritu Dhillon on April 26, 1994 in Mumbai and since then they both complement each other in all their creative endeavors. He formed his production company by the name of "M.D. & Company" and made a historical film "Khalsa" based on the actual Khalsa history, which got an over whelming response from the audiences in Punjab and Abroad. He did a theatre production of his one-man Play "Theatrewala Urf Pagal Hai" which also got a great response from all over. At present he is making two more documentary films, one is "A Day At The Golden Temple" which shows 24 hours Holy Maryada at Sri Harimandar Sahib and another one is based on the true experiences of the illegal immigrants titles "Message". He is also working on a big historical film project "The Greatness of Sikhism." Besides this he is planning feature films like "Shahaadat" "Khud Ko Yahan Se Dekho" "Prem-Aandh" and "Vidroh." His own Television mega serials like Be-Lagaam, Ru-ba-ru and Sarfrosh are also in the pipeline along with a Docu-Drama Series based on the supernatural phenomena called "Beyond Logic."
He is writing two books in English and Punjabi titled "Kujh Saddaran ate Chand Haunke" (Some Desires and a Few Sighs) along with "The Dark World of The Ghosts" based on his own research and observations. Besides this a volume of his own poetry in Hindustani is also ready for publication, which is titled "Be-Tarteeb Jazbaat."(Scattered Emotions) As an actor at present he is working in a hindi film "Jan-Nasheen" by Firoze Khan.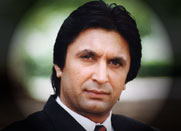 In brief his associates describe him as "A tall, handsome man with a powerful voice, which is characteristic of his multidimensional personality, a versatile actor, a well read and equipped writer, a perfectionist producer-director and an imaginatively sentimental poet, generous, just, loving, man of his words and an individual with high moral values and character and that's what Mangal Singh Dhillon is all about."

Acting - Theatre
Mangal Dhillon started his acting carrier from theatre in 1978 and he has acted in numerous plays, which were performed in Delhi, Chandigarh and Mumbai. Theatre still remains his first love and the foundation stone of his acting carrier..

T. V. Serials
Television was the second phase of Mangal Dhillon's acting carrier and he started acting in T. V. plays and T. V. Serial from 1982. He has acted in a lot of T.V. plays and popular T.V. Serials at Jalandhar Doordarshan, Delhi and in Mumbai.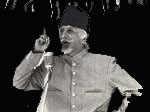 As Maulana Azad

Feature Films
While acting in various T. V. serials in Mumbai, Mangal Dhillon got offers to act in many feature films also. He started working in films in 1988 and has acted in many films. He did negative or character roles in most of the films.

Mangal Dhillon as a Poet (see what we mean by' multidimensional' [kanwal])
A few Scattered Emotions
Zinda hain Jab talak mere Jazbe Junu ke Saath,
Mein kuchh bhi ho sakta hoon, magar gharib nahin hoon.
Halaat ki saazish kahoon, yaa waqt ki ranzish ise,
Bina chehre ka koi dushman mita gaya mujh ko.
Un ke tasavur mein kuchh is qadar guzri hai hayaat,
Ke ab hum aayne mein hum nahin, who nazar aate hain.
Khudi ke ru-ba-ru aane se itna dar raha hoon,
Ke tamaam ghar ke maine aayne tudwa diye hain.
Intzaar ka yeh lutf kafoor naa ho jaaye kahin milke unse,
Isi khadshe mein tamaam umr tanha guzaar di humne.
Falsafa mere junu ka parh ke to dekhe koi,
Kis qadar hum ret ke minaaron pe chadhte rahe.
Who zamaane se bante rahe the magar,
Hum haqeeqat zamaane se kahte rahe,
Ab un ko zamaane ne aaqaa kahaa,
Aur hum ko zamaana sharaabi kahe.
Sadma Sadma aur sadmein ke baad phir sadma,
Tera karam hai, tune jo bhi diya tabiyat se diya.
Ru-ba-ru aaye kabhi to dekhte rah jaao ge,
Dushmano se bhi bada dushman khudi mein paao ge.
Aayna laao hum khudi apni shnaakht ka hausla batorein,
Ab hamen zamane ki dee pehchaan par yaqin nahin raha.
Kanwaljit Singh, the good-looking actor who has given some excellent performances in films as well as television serials speaks to zeelearn.com.
Kanwaljit graduated from Saharanpur and then joined FTII Pune. His first film was 'Dastaan-e-Laila Majnu' followed by 'Hum Rahe Na Hum' by Vijay Anand, "Sharat" and 'Shaque' by Ketan Anand.
Two of his films 'Hum Rahe Na Hum' and 'Shaque' which he heavily banked on did not do well at the box office. He was slotted as a failure, and it was around this time that he was introduced to television (the small screen, then was not a popular medium). His role as an illegitimate child in Ramesh Sippy's mega serial Buniyaad gave him instant recognition. This earned him many offers, but even at that time he did not take up anything that came his way. On the contrary he has always preferred to wait and do lesser but more meaningful roles. In the coming years he was approached with roles of his choice and thus serials like Saans, Family no. 1, Dard and Siski happened.
Happily married to actress Anuradha Patel, he is the father of two adorable sons. His hobbies are reading, philosophy, literature and Urdu poetry and his favourite sport is tennis. A voracious reader, he has read Salman Rushdie, Milan Kundera, Marque and Arundhati Roy. He admires European filmmakers and artists, his favourite Hollywood actors are Robert De Niro, Marlon Brando, Kevin Costner and Jack Nicholson.
An excerpt of the chat with him:
You have tasted success on the small screen. How do you perform your roles with such ease?
"It's just that with experience you tend to be perfect, but rehearsing for a role is very important for upcoming artists. My initial days of struggle were marked with practice sessions, I used to stand in front of a mirror, read aloud my dialogues and perform. That gave me the confidence to perform various roles with ease. Once you get acquainted with the art you need not practice. These days when I am not working I read autobiographies of other artists and try and learn from them".
Would you choose going back to movies?
"I do like working in films as this medium enables one to exploit one's true potential, but I am not happy with the kind of offers that have come my way. I want to do roles of substance, the kind that can help me grow. Owing to my success on the small screen, offers come my way. I basically work for television in order to fulfill my economic needs, and also because I get to do variety of roles."
How do you choose a role?
"I look for the fullness in the man, is he real, believable, does he have something to say/do, challenge the actor in myself, give a chance to display a wide range of emotions etc. In the case of 'Saans', he is caught up in two situations, or Karan Khanna of 'Daraar' who is on the warpath against his greedy and jealous daughter-in-law who has deprived him of everything or the illegitimate son, Satbir in 'Buniyaad'. Is the character angry, shy, extrovert, introvert, suppressed, quiet or ambitious? You see, all these range of emotions do help in choosing a character. There has to be something strong in the character, which you should instinctively feel and which can be reflected on the screen".
That means you choose your character.
"Yes, I am a very choosy person, I don't undertake any project that comes my way. I think a great deal about the role. The best compliment that I have received in my long innings is that whenever I take up a job, quality is always assured. And I am not talking just about my own performance".
What kind of potential roles would you like to portray?
"I have always been fascinated by psychologically disturbed minds. Something on those lines would really interest me. I want to play a psychopath.
What are your reading preferences?
"Well, I read all sorts of books, fiction and non-fiction. As I told you, I have read a lot of Nietzsche. It is a sort of Bible to me. I keep going back to Nietzsche again and again. I have read a lot of Freud and Adler, and other psychological books too. Also I have read a lot of fiction starting with Rushdie, Arundhati, Gabriel Garcia Marquez, and Milan Kundera.
Who do you look up to as your role models?
"Since my childhood I had been a great fan of Dev Anand and Dilip Kumar. I often used to imitate Dev Anand's gestures. I was just crazy about him. But things changed once I joined the Film Institute at Pune. As I started watching foreign movies, my outlook towards films changed. I have great admiration for Nietyzsche and Faiz Ahmed Faiz".
Your screen roles show you as a loving and understanding father. Are you the same in real life too?
"I am a very loving father but my kids think that I am a very humorous person. I share a very close relationship with my sons, Siddharath and Aditya. I try and coincide my holidays with the kids so that all the four of us can go out on holidays together. We prefer to spend the weekends at Khandala and Lonavala. All of us basically like to travel a lot. During the kids' Diwali and summer vacations, we take off on long holidays".
The above brief biography of Kanwaljit Singh presented with thanks to Chitra Sawant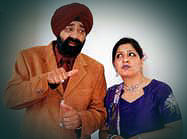 Two happy moments came together in the life of Sardar Jaspal Bhatti and Smt. Sawita Dadyala in Feb 1986. When the couple was blessed with a son and Government blessed them and telecast "Ulta Pulta" at National hookup from Delhi Doordarshan on the same month. An other happy occasion came in the life of couple when they presented live performance in an Award ceremony at Bombay. That was the first live show of the couple.
The couple has a quality of mesmerizing people with their charisma throwing them into pangs of laughter. He is doing so much "Ulta Pulta" on TV, but in his real life he is a good son, better father and an adorable husband. He is thankful to the corrupt system which is regularly generating ideas for his coming episodes.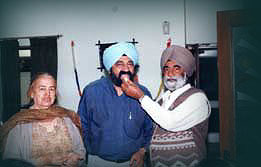 Sardar Jaspal Singh Bhatti was born to Smt. Manjit Kaur Kaler on 3rd march 1955 at Guru ki Nagri Amritsar. His Father, Sardar Narinder Singh Bhatti has worked in Electricity Board. After retirement he decided to settle at Chandigarh.
I no longer think of it as the city of Le Corbusier but as the city of Jaspal Bhatti, Indian TV's one and only original and contemporary satirist.
Sardar Jaspal Bhatti did his matriculation from Pathankot and then +2 from DAV College Jalandhar. Then in 1978 he completed his Electrical Engineering from Punjab Engineering College. In 1980 he joined Punjab State Electricity Board. In the school he always actively participated in all the extra curricular activities.
Once he sent a cartoon to "The Tribune" (A leading daily English news paper). The editor liked it very much and published it on the first page of the paper, with this he got inspiration to do more cartooning. His cartoons became very popular. Then he started his programme "Rang Wich bhang" (Disturbance in happy celebration). This programme highlighted his inner artist. It was a short programme but viewers stuck to TV so that they did not miss this programme which gave them a few moments of happiness in this era of fast life.He then started making serials for TV but his lust for films did not stop and he produced the very funny "Mahaul Theek Hai" which give him international recognition. His work in other Hindi films has also been appreciated by viewers.
Now Jaspal Bhatti is an established star of Bollywood, His work and stylehas made home in the hearts of Indian people and Indians living abroad. Now Jaspal Bhatti is frequently present on Indian TV in one or another serial skit or movie. There is no looking back and opportunities keep coming his way with success. Many organizations have recognized his contribution, In the word of Jaspal Bhatti "the clapping of my audience and love, is great award to me".
He got married to Smt. Sawita Dadyala on 24th March 1985. She is daughter of Sardar Manmohan Singh Dadyala Ex Air Commodore. She did her graduation from Delhi and MA from Punjab University in 1988. She had also decorated herself with the degree in journalism. Now she handles the production of all the serials and TV shows. The couple is blessed with a son and a daughter.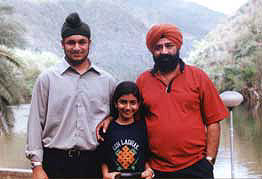 -------------------------------
Jaspinder Narula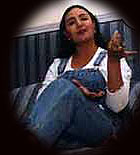 To some people, fame comes late, but comes for good. Jaspinder Narula is a fine example. The powerful-voiced singer shot to fame after a duet with Remo Fernandes in Pyaar To Hona Hi Tha, and walked away with many awards that same year. Two years later, she is today rated among Bollywood's most sought after playback singers.
Jaspinder's tryst with singing began early, being the off spring of K S Narula, a veteran composer of the 50s. However, with her strong spiritual inclinations, Jaspinder kept away from film singing and specialised in singing bhajans and Sufiana compositions.
Ustad Amjad Ali Khan could be credited with giving Jaspinder the much-needed push towards the music industry. He invited the young singer to the felicitation party of veteran composers Kalyanji-Anandji, who had just won the Padamshree. Upon meeting the young talent, Kalyanji invited her to Mumbai, but Jaspinder, who was busy with academics, stayed away from the glitter of tinsel town.
Jaspinder finally made her way to Mumbai a few years later, when Kalyanji recommended her to his son Viju Shah. The few assignments that she took up went largely unnoticed. A fairly good break came in 1997, when Anu Malik offered her an assignment in Virasaat,for which she recorded a duet with Kumar Sanu. Then on, there was no stopping Jaspinder, who went on to record for the industry's top-notch music directors.
But in an industry where a singer's worth is measured more by quantity rather than quality, Jaspinder has managed to render a fair range of tracks. Right from Akhiyon se goli maare from Dulhe Raja, to Bumbro from Mission Kashmir, Narula has covered a wide canvas of genres, exhibiting her best each time. She also rendered vocals for Aditya Chopra's Mohabbatein. The singer declares that she is willing to try anything, as long as the songs don't border on vulgarity. Her repertoire thereby remains dynamic and impressive.
An ardent Sardarni, Narula is at ease with all kinds of music, be it devotional, filmi, folk, pop, western or classical. With a post-graduate degree from the University of Delhi, she is pursuing her PhD on the influence of Urdu and Persian on Hindustani classical music.
Narula has also tried her hand at the pop scene with the album Kuch Kuch Dil Mein, an album that didn't quite generate the kind of reaction that her playback singing does. However, with scores of film assignments in the pipeline, the diverse singer need not worry too much about pop acts.
Courtesy; http://www.indya.com/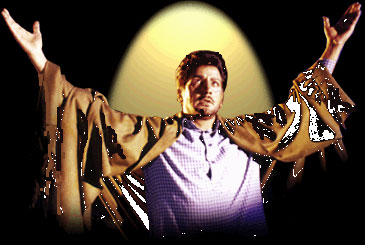 Gurdas Mann was born in the village of Giddarbaha, District of Faridkot. He was formally educated in Malout. After completing his education his parents moved him to Patiala for further studies. The city fascinated him especially because it was home to the National Institute of Sports, as Gurdas is a keen sports enthusiast. He joined the N.I.S and gained a Masters Degree in Physical Education.
He took part in youth festivals organised by various universities and won numerous awards for his singing and acting. He competed in many athletic events and won medals including a bronze at the National Championship, he is also a black belt in Judo. After completing his Masters Degree, he started working and also kept on writing and doing stage shows.
In one of his stage play he sang a song which he wrote himself and called " DIL DA MAMALA HAI ". The play was seen play a producer of a Jalandhar TV station, who than approached him for a TV recording of his song, which Gurdas reluctantly agreed to. When the song was aired on the 31st December 1980 it stormed the nation and Gurdas Maan became a household name. The overwhelming success of the song grabbed the attention of HMV who wanted to record the song and from this came his first album in 1982.
He has produced over 27 albums and has written over 200 songs. He also wrote and directed TV programmes like POP Time for Delhi Doordarshan. When Gurdas Maan started his career, as a performer there was no market for solo singers, as the market was dominated by the duets. He declined many offers to perform as a duet as he was confident of becoming successful as a solo artist. Even today when organisers arrange for a group of artists to perform, he always perform solo. He has toured the globe and charmed audiences with his versatile performances.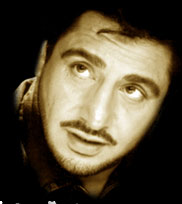 Credit goes to Gurdas Mann for raising Panjabi music from a mere regional level to an international level by giving it a fresh look. The ever-popular "APNA PANJAB" track which has superseded all other songs by Gurdas Maan, this track has received awards for The Best Song , Album & Best International Artist of the Asian Pop and Media Awards held in Birmingham in 1998.
He is a pioneer in many ways and keeps trying to better things by doing something different, be-it using different kind of music or giving new dimension to an old folk song. As a singer Gurdas Mann has worked with music directors like Laxmikant Pyarelal, Bappi Lahiri, Anu Malik, Nadeem Sharvan, Amar Haidipur, Charanjeet Ahuja, Jaswant Bhanyra to mention but a few.
Aside from singing in Panjabi, he is fluent in Hindi, Bengali, Tamil, Haryanvi and Rajasthani. As an actor he has performed in Panjabi, Hindi and Tamil movies.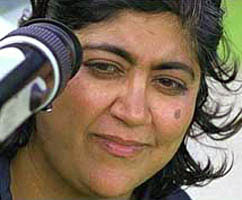 Gurinder Chadha was born in Kenya and came to Britain with her parents in 1961. She grew up in Southall, London and studied at the University of East Anglia. After working as a broadcast journalist, her first directorial venture was I'm British But..., a documentary made for Channel 4 and the BFI in 1989. The film uses the phenomenon of bhangra music to explore issues of identity and belonging among young British-born Asians.
In 1990 Chadha made her first dramatic short film, Nice Arrangement, concerning a British-Asian family on the morning of their daughter's wedding. This was followed by another documentary, Acting Our Age (1991), in which elderly Asians living in Southall recount their experiences of living in Britain. These various concerns came together in Chadha's first feature film, the comedy-drama Bhaji on the Beach (1993). The film centres on the experiences of a group of Asian women from three generations on a day trip to Blackpool. As Chadha has said, in the film "You have tradition on the one side and modernity on the other, Indianness on the one side, Englishness on the other, cultural specificity and universality - but in fact there is a scale between each of these polarities and the film moves freely between them."
After a two-part drama for the BBC, Rich Deceiver (1995), and a number of television documentaries, Chadha went to Los Angeles to make her next feature film What's Cooking? (2000), a series of overlapping stories involving four families (Hispanic, Vietnamese, African-American, and Jewish), all preparing for Thanksgiving dinner. Once again the film stresses diversity over difference through an increasingly adept mix of drama and comedy. Chadha has said that "For me the whole point of the film is that the four families mirror each other and as you become emotionally invested you forget about where they come from - you stop seeing difference and realise they all want the same thing, to keep their families together.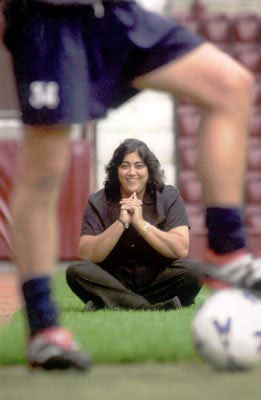 Chadha's most accomplished and commercially successful film to date is Bend It Like Beckham (2002). This story of a young Asian woman trying to pursue her ambitions as a footballer while accommodating the demands of family and tradition may seem familiar territory. However, the fact that the film is set in Southall, where Chadha grew up, enables her to present a subtly nuanced picture of a very specific community. The film makes the point that British Asian experiences are as diverse as those of any cultural or ethnic group, thereby emphasising the universality of those experiences, a point that is all the more powerful for being quietly made.
Gurinder Chadha honoured at the Commons
14.39 IST 03rd Nov 2004
By IndiaExpress Bureau
Gurinder Chadha, NRI director of Aishwarya Rai-starrer 'Bride and Prejudice' has been honoured at the House of Commons for her outstanding achievement and contribution to the British film industry.
Describing her hit film 'Bend It Like Beckham' as the biggest British-financed and distributed film, Keith Vaz, MP, and former minister for Foreign and Commonwealth Office said Tuesday night it was impossible to quantify the achievements of Gurinder Chadha.
"Her hit film 'Bend It Like Beckham' is the biggest British-financed and distributed film and 'Bride and Prejudice' is the No.1 in the Box Office chart in Britain," he said at a reception hosted in her honour by himself and two other MPs John Barrett and Michael Fabricant along with the ROKO Cancer Appeal headed by A P S Chawla.
"Gurinder Chadha has made a fantastic contribution to the British film industry over the past fifteen years. She is one of those rare British film-makers who has won artistic and popular acclamation from all over the world."
Chadha, who was emotionally moved, said it was for the first time a film director was honoured in the House of Commons "in this way." Recalling the hardships her father faced when he came here from Kenya over three decades ago, she said "It was a very difficult time to get a job because he had a turban and beard.
"The films I make are rooted in the heart of British Asians and they are a testimony to the fact that how much progress the British Asians have achieved over a period of time," she added.
Another feather in her cap is the release of 'Bride & Prejudice' which is heading for another BIG HIT.



Sukhwinder Singh is now the most expensive singer in Bollywood. He doesn't really have to swamp himself with work, an occasional job will do to keep him going - that's how expensive he is. Yes, the Chaiyya chaiyya man arrived in style.
His first effort in Hindi films, Aaja Sanam, went largely unremarked, even though the music carried the names of Laxmikant-Pyarelal. The song simply disappeared in the whirlpool of Bollywood, leaving him in much the same state.
And then, along came Dil Se. A R Rahman, always interested in something new, used Sukhwinder for the unforgettable Chaiyya chaiyya, and for the singer, that was that. Despite carping critics, it was no flash in the pan, and Sukhwinder is now regarded as a sensitive and eloquent singer.
Other films followed, notable among which are Taal, Biwi No 1, 1947 Earth, Daag, Dillagi and Thakshak have now made him a household word. Sukhwinder owes a large part of his success to Rahman's encouragement, and makes no effort to gloss over that fact.
Sukhwinder has some pretty strong opinions about writing music - he has once stated that if he was ever involved in writing music for film, he would delve deep into the Indian musical landscape and not simply conjure up some digital tricks with pop and fusion.
Sukhwinder has been singleminded in his approach: he wishes to do little else but sing and compose music. His trainer, Balwantrai Jaswal, a well-regarded singer in Punjab guided him, but most of his learning, as he says so himself, has occurred by just listening and imbibing.
Rahman and Sukhwinder are presently working very closely together, and the duo have decided to make music that is not tailor-made to fit in with films, but to venture into realms where they can truly express themselves.
Apart from his work with Rahman, he is also engaged in a few other projects. He is back with Pyaar Tune Kya Kiya..., where he is working with music director Sandeep Chowta. He is planning to set up a high-tech recording studio in Mumbai, and save himself the trouble of recording and experimenting on somebody else's time. He is also working on two non-filmi albums.
Courtesy: http://music.indya.com/biographies/ind/sukhwinder_singh.html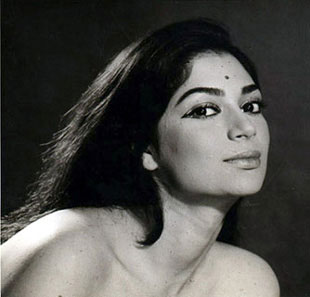 Today Simi Garewal is known as 'The Woman In White' and the host of the wildly popular television interview show, "Rendezvous with Simi Garewal" where she plays the chic interview host inviting filmi stars and the super rich for a bit of tea and gossip.
For Bollywood in the 1960s and 70s Simi Garewal was the epitome of Indian genteel sophistication and restraint. Her image as the cool and controlled beauty of Hindi Popular Cinema never won her the kudos of the front benchers and she was not a song and dance girl, but Simi worked with all the heavy weight actors and India's best directors during her career. Her signature role was as the school teacher that the young Rishi Kapoor has a crush on in Raj Kapoor's "Mera Naam Joker" (1970).
Simi Garewal was an anomaly of sorts, not the usual Bollywood story. She was born in India but raised in England, the daughter of a military brigadier. As a child living as a NRI she was obsessed with becoming a Bollywood star. As a teen, barely knowing Hindi, she came back to India with her Mother to fulfill her dream of stardom. In a chance meeting with Mehboob Khan (director of Mother India) she convinced the director to put her in his next film and Simi's film career was born.
Simi Garewal thought besides her cool and sophisticated Bollywood image worked in a handful of 'art film' projects. In 1969 she played a rural tribal girl in Satyajit Ray's Bengali film "Aranyer Din Ratri". She also appeared with Shashi Kapoor in the 1971 'crossover' film, Conrad Rooks' "Siddhartha". Simi played the love interest to Shashi's Siddhartha and caused a sensation in India when she appeared topless in the film.
As her film career started to wan Simi gravitated to the other side of the camera and tried her hand at Bollywood film direction and then had some success as a documentary film maker. Today Simi Garewal has her own production company of which "Rendezvous with Simi Garewal" is the most successful offshoot.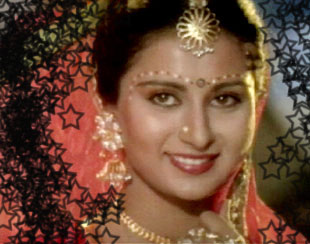 Often profiled in storybook terms Poonam Dhillon radiates an aura of eternal optimism. Truly her life embodied fairy tale qualities. As a teenager she won the title of Miss India and then gained more national exposure as a cover girl and top magazine model. Legendary director Yash Chopra then chose her to act in his next film, "Trishul" that starred an all star cast that included Amitabh Bachchan, Hema Malini, Raakhee, Shashi Kapoor, and Sanjeev Kapoor. In the film, Chopra picturized her over a song wearing a revealing bathing suit and Poonam Dhillon became an instant Bollywood sensation.
Soon she was an A List star and for the next 10 years she starred in dozens of films opposite all the top heroes of the day. In 1988 she married the film producer Ashok Thakeria in a celebrated Bollywood love match. Unlike many other actresses of the day Poonam did not retire from acting and continued her career. She had two children and proved that motherhood and a career could be compatible for an Indian woman.

Beyond the fairy tale exterior and glam surface of the Bollywood entertainers she acted in Poonam Dhillon in reality is a woman of much substance. Her fairy tale marriage ended in divorce, from which she moved on raising her two children as her first priority. She moved into film, television, and entertainment production all the while continuing her acting career. Recently she has been involved with nurturing media talent for acting and modeling. Dhillon is also active with Internet technology and has her own web site. She is active in charity works and politics, in 2002 became a member of the Indian Congress party. On April 18th, 2003 Poonam Dhillon turned 38 years old. It is a truly incredible life for a woman who is not yet 40 years of age.
Poonam Dhillon truly lives and embodies the life of the modern Indian woman; active, modern, yet tradition bound. And it must also be noted, she had the most gorgeous thick long hair of any actress in Bollywood history.
"Laila" [1984]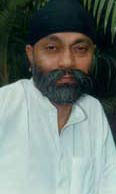 Uttam Singh

He should truly be lauded for his remarkable effort in playing the violin nonstop for 16 hours a day, when he was taking his first steps in the Hindi film industry. But when Uttam Singh today basks in the glory of his fine musical scores, he has still not forgotten his bearings. His unassuming nature is evident in his attire. In his white kurta-pyjama, he could easily pass off as the man on the street, but Singh is the proverbial goose that lays the golden eggs.
Uttam Singh was fortunate enough to be influenced by music early. His father was a sitar player, and the family moved to Mumbai when Singh was 12. His thirst for music was fuelled at this time. He soon mastered the tabla and took to the Western violin like a fish takes to water. Singh would soon spend long hours pursuing his passion. The family spent time singing in gurudwaras, and this gave Singh firm grounding in classical music.
Singh spent the initial years in the industry as a violinist, and his first big break came in 1963, for a film being made by Mohammad Safi, an assistant to Naushad. He then graduated to playing the violin for major composers like Naushad, Roshan, Madan Mohan, C Ramachandra, S D Burman. He then became the main violinist for R D Burman.
Singh soon came to be known as an arranger of repute. Together with his partner Jagdish, he arranged music for more than 65 films in languages like Tamil, Malayalam, Gujarati, Konkani and Punjabi. The two also made a splash in Hindi with blockbusters like Maine Pyar Kiya and Hum Aapke Hain Koun..!
The two became independent composers with Painter Babu. Manoj Kumar then offered them Clerk and Waaris. The duo's talent was recognised in numbers like Husn ki vaadiyon mein, sung by Kishore Kumar. Singh branched off on his own after the death of Jagdish in 1992.
Celluloid history was made when Singh bagged Dil To Pagal Hai. Yash Chopra switched loyalties and chose Singh instead of regulars Shiv-Hari. Singh handled the mammoth task of scoring music for the multistarrer with ease, and many of the tunes were chartbusters. In fact, the title song, Are re are, Bholi si soorat and Le gayi are still remembered and hummed.
Singh's run continued with the Tanuja Chandra film Dushman and the Govinda starrer Hum Tumpe Marte Hain. The composer also recorded his first private album Om Sai Ram in 1996. He followed it up with Sur, which showcased daughter Preeti's lush vocals. Singh is now back in the reckoning with Farz and Pyaar Diwana Hota Hai. He has also composed a 20-minute music piece for Sunny Deol's Gaddar, which runs through the length of the film at different points.
Singh is on his way to his halcyon days, and his 16 hours of violin-playing are a distant memory. But he is still doing what he does best - making music.
Courtesy indya.com



Singer since childhood
Among the most respectable names in the world of Punjabi folk singing, one that has achieved the status of a living legend is that of Surinder Kaur.
Since the 1940s, Surinder Kaur has rendered classical and folk tunes that have been admired by generations. The fountainhead of a whole new style of singing, she has earned deep respect from present-day singers and the public alike.
The legendary vocalist and her daughter, Dolly Guleria, form a mother-daughter duo. Music for them is something that comes from the heart; it is not merely a profession. That feeling continues to this day, unruffled by international recognition.
Talking to ANI, Surinder Kaur said: "Singing has been an attraction for me since childhood. My parents didn't allow me to perform, saying it was not acceptable for a Sikh girl to do any such thing".
"It was quite a struggle. I auditioned for a children's programme and started doing a programme on the radio in 1943. But I wanted to continue learning and was instructed by some eminent classical singing gurus," she added.
From a humble beginning to high-profile international honours and awards, this nightingale of Punjab has come a long way over the decades.
Her depth and intensity, the poise of her stage performances still hold audiences spellbound. That stirring feel and tingle is simply not found in the artistes of today.
"The singers of today, sadly, do not sing with the strength of their voice and control, but on the beat of the music and orchestra", the singer observed.
"We have only two instruments on stage and we don't even give these instruments a microphone so that the voice dominates. The new generation should also look to improve the selection of songs. It needs a more literary refined touch" - according to Surinder Kaur.
Among all her performances, the one she recalls most vividly in this one: "An Army General was with me in the jeep and he told me the entire Sikh regiment was sitting on snow, eagerly awaiting my arrival. I said I would go to them. They were housed in a gurdwara on the border".
"I was young and eager. When I began to sing, the soldiers danced in joy and I too danced with them. It is a scene I shall remember all my life", she said.
Today it is her daughter, Rupinder, better known as Dolly Guleria, who holds the centrestage, singing on the lines of her mother. ANI
Source: http://www.tribuneindia.com/2002/20020131/edit.htm#7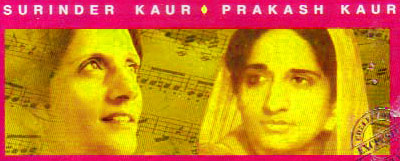 Surinder Kaur with her late sister Parkash Kaur - the songs of this duo are still echoed in the minds of Punjabis.
Obituary
---
Surinder Kaur
Folk singer across the Indian divid
e
Amarjit Chandan
Tuesday July 11, 2006
The Guardian
Surinder Kaur, who has died aged 77, was one of the most popular Punjabi folk singers of the gramophone age. She was born to Hindu parents in Lahore, the capital of what was then the undivided state of Punjab, though she and her eight siblings were raised as Sikhs.
Kaur and her sister Parkash had a rigorous classical musical training under Inayat Husain, a Muslim, and Pandit Mani Parshad, a Hindu. No other popular contemporary Punjabi singer, except Nusrat Fateh Ali (also trained in classical music), mastered the nuances of the Indian musical scale to the same extent.
In August 1943, when she was 13, Kaur gave her first live performance on Lahore Radio, and the following year made her first record, along with her sister, for HMV. The duo soon became household names across the sectarian divide, and no Punjabi wedding was complete without their songs - played on hand-wound machines with mother and daughter as protagonists. In Punjabi culture, the departure of the newly wed daughter is always a heart-breaking scene, which from her family's side can only be seen as death before reincarnation.
After the partition of India split the Punjab in 1947, Kaur moved to Delhi with her parents, and then to Bombay, the centre of the Hindustani film industry, working as a film playback singer until 1952. She then returned to Delhi and married Joginder Singh Sodhi, a lecturer in Punjabi literature at Delhi University: "He was the one who made me a star," she recalled. "He chose all the lyrics I sang and we both collaborated on compositions." They both travelled to farflung villages in East Punjab for Ipta, the Indian People's Theatre Association, run by the Indian Communist party and spreading the message of worldwide peace.
Apart from folksongs, Surinder Kaur sang Muslim Sufi Punjabi kafis and lyrics by contemporaries such as Nand Lal Noorpuri, Amrita Pritam (obituary, November 4 2005), Mohan Singh and Shiv Kumar. She used to reminisce about the golden days of Punjabi music, when discerning listeners respected artists like her; she very much resented the present-day tendency towards fusion. Her best duet partners were female: her sister, her daughter Dolly Guleria and granddaughter Sunaina - and in recognition of the success of this collaboration, in 1995 the album Surinder Kaur: the Three Generations was released.
Surinder Kaur has left more than 2,000 recorded songs, and will be missed by 120 million Punjabi-speaking people around the world. Her husband predeceased her in 1975, but her three daughters survive her.
· Surinder Kaur Punjabi folk singer, born 25 November 1929; died 14 June 2006