Born in Deena(Now in Pakistan) on 18th August, 1934. After partition he came to Delhi. Gulzar - aka Sampooran Singh began his film career as an assistant to Bimal Roy. He also worked with Hrishikesh Mukherjee in the beginning of his career. He started writing songs for films with Bimal da's Bandini. Mora Gora Ang Layee Le is supposed to be his first song. Although His first film to be released was Kabuli Wala, which also had some all time greats like Ganga aaye kahan se. Bandini and Kabuliwala were followed by Sannata, Biwi aur Makan, Do Dooni Chaar and most notable of all Khamoshi and various others during 60's.

After getting recognition as a sensitive lyricist, he started writing scripts and stories for films. Then with Mere Apne in 1971, He turned Director. Since then he has given us lots of beautiful, serious and funny moments through his movies. He has written stories for around 60 films and directed 17 movies, each one a masterpiece.

During 1987-1996 he went away from the seen as he did only 7 films as lyricist and 2 as director in the span of 10 years. During this period he did one of the most outstanding jobs for the small screen, the serial called Mirza Ghalib, a tribute to the legendary poet. Mirza Ghalib will remain one of the most memorable TV productions for its music, direction, dialouges and portrayel of MG by Naseeruddin Shah. 1996 saw Gulzar back in action, behind the camera for the making of Maachis, a candor document on terrorism in Punjab. The success of Maachis, got Gulzar back to the film industry. After Maachis, he teamed up with new breed of music directors like AR Rahman, Anu Malik, Jatin Lalit, Shankar-Ehsaan-Loy. The magic of Dil Se's music won him yet another Filmfare award. His recent venture HU TU TU received critical acclaim. His next directional venture would be a Bangla film. Gulzar is back with his pen and now writing lyrics for Pinjar, Chupke Se, Shafaq, with a couple of untitled films.

Although films gave him a mass recognition, Poetry always remained his first love. His first poetry collection Ek Boond Chaand was published in 1962. Roopa - Harper Collins has recently published his new poetry book Triveni. A collection of Gulzar poems titled "Raat, Chaand aur Mein" was also released recently, covering poems related to only Raat and Chaand.Another peotry collection Raat Pashmine ki has recently been published in Pakistan. The Indian version of Raat Pashmine Ki is released later on Roopa-Harper. Mera Kuchh Samaan and Chhaiyya Chhaiyya are the two song collections of Gulzar.

2002 was a year of experimentation, where many young artists from different faculties worked with Gulzar and provided new expressions to his work. Some of the notable experiments include Kharaashein - a play by Salim Arif on Gulzar's short stories, Udaas Paani - an experimental music album by Abhishek Ray and, Gulzar's Poetry on Canvas by a young Painter Ajay Kumar Samir. Kharaashein has now been published in the form of a book on Radhakrishna Prakashan.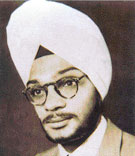 Sampooran Singh alias Gulzar
Gulzar has won 5 National Awards and 17 Filmfare Trophies. For details check Katra-Katra Section on this site. He has been awarded the SAHITYA AKADEMY AWARD this year for his collection of short stories "Dhuaan". FILMFARE has honoured him with a LifeTime Achievement Award for his contribution to Hindi Cinema in 2002
For more info log on to http://www.gulzaronline.com/ from where the above excerpt was taken with thanks.