The founder Guru Nanak Dev Ji (1469-1539) established the 'Rebabi' tradition in Sikhism. Bhai Mardana, the life long companion of the Guru belonged to a cline of BARDS known in those days as MIRASIS. They commanded a very high respect in all communities throughout the Northern India. A 'Mirasi' was supposed to be the custodian of 'MIRAS' i.e. The Heritage. They would orally recite long poems about the ancestral heritage of a particular family at the time of birth, marriage and death and indeed on all occasions of celebrations both locally and widespread. The cultural degeneration of Indians, especially Panjabi heritage defamed the title 'Mirasi' and reduced its connotation to a beggar poet.
The Rebab (Rebec) is an Arabic name. In Baghdad there is an interesting story about Rebab: It is written in 'Tarikh-ul-Hukma' and 'Mashahir-e-Alam' that about a thousand years ago, a 'Hakim' of Bukhna, Abu Nasir Farsi, who was an accomplished singer and instrumentalist, played an instrument in a social gathering of a rich 'Amir'. The gathering initially laughed, then cried and lastly was stimulated with the sound of the instrument. This was the Rebab, which completely overwhelmed the audience with its captivating sound..(ref: Dr. Balbir Singh, 'Lammi Nadar' 1959)
Bhai Kahn Singh Nabha, writes in his 'Mahan Kosh', that the Rebab was previously known as "Narad Veena" or "Ravan Veena". It is the favourite instrument of the sage Narad and Goddess Saraswati. Although this instrument may have divine background, but Guru Nanak and the Sufi Fakirs have brought this instrument down to the level of the general public. For Guru Nanak the divine singer with this divine instrument was Bhai Mardana. Bhai Mardana was the first person from his childhood who started playing the divine gurbani music with the Rebab, and accompanied Guru Nanak on all his travels with earnest devotion.
Guru Nanak Dev renovated the Arab/Iranian string instrument REBAB and activated his friend Bhai Mardana to master it and sing the hymns of divine grace. That is how the celebrated 'Rebabi' Tradition came into being. There are 22 Vars in the scriptures to be sung on the specific tunes by the 'Rebabis'. For example the Asa Di Var is to be sung in Raag Bhairvi on 'Tunde Asraje ki Dhuni' (ref: 'Guru Arjan Dev, Prophet & Poet' by H.L.Agnihotri).

A Rabab from central Asia
Bhai Mardana
Mardana was born in 1459 at the village of Rai Bhoi di Talwandi, district Shekhupura (Pakistan). This makes him ten years older than Guru Nanak His father's name was 'Badra' and mother's name was 'Lakho'. It is said that Lakho had six (or some say five) children who had died during birth, and she named this seventh child as 'Marjana'( the one who dies), but Guru Nanak started calling him 'Mardana', meaning 'Marda - Na'(the one who wouldn't die). This is the mystery of this name.
Principal Satbir Singh, who says that his name was 'Dana' but after meeting Guru Nanak, Guru Ji named him 'Mardana', gives another version of his name. He was very pure of nature, hence Guru Ji loved him very much and always kept him alongside. He stayed with the Guru for almost fifty-four years.
It is written in the 'Janamsakhi', that after a considerable search for the 'right sounding' Rebab, which could not be found anywhere, Guru Nanak sent Mardana to the house of Bhai Firanda of Bhairowal (Kapurthala). Bhai Firanda was an accomplished musician and was a carpenter by trade. He presented a special Rebab to Guru Nanak, which sounded like 'Tu hi Nirankar, tu hi Nirankar" (a divine melody in grace of the Almighty). Guru Ji was very much pleased with Bhai Firanda and bestowed upon him His boundless blessings.
Guru Nanak started on His divine journeys in 1697 AD, and along with Mardana, His first stop was at Bhai Lalo's humble house at Saidpur (Emnabad - Pakistan). Here Guru Ji meditated very rigidly for nearly a year, bearing the pains of stones, sand and thorns.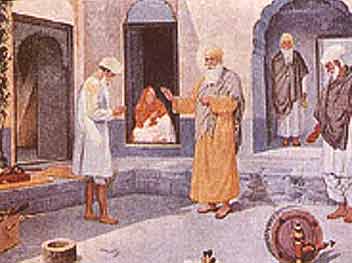 Guru Nanak with Mardana at the house of Bhai Lalo

There are a number of very interested 'Sakhis'(stories) connected with Bhai Mardana on Guru Nanak's four Divine journeys, which can be seen in paintings and read in Guru Nanak's section. In short it can be said that Mardana was a most fortunate soul who benefited the heavenly presence of Guru Nanak, who according to the Bhatts (GGS) was the re-incarnation of the Almighty.
There are different versions of his death. In the Paira Mokha Janamsakhi, it is written that Mardana died in Afghanistan, during Guru Nanak's fourth journey. He was cremated near the River Kuram in the City of Khurram. Another version is that he came back with Guru Nanak and died in 1538/1539 AD) at Kartarpur, eight days after Guru Nanak's death.
Mardana was not a mere musician but also a spiritually elevated soul. Three of his hymns are included in the Adi Granth under Raag Bihagra. These hymns denounce drink that engenders evil passions and upholds meditation of the Divine Name that creates a spiritual inebriation.
Mardana's family.
Bhai Mardana had two sons, Rajada and Shajada. Shajada stayed at Talwandi, but Rajada came to Kartarpur. Sajada used to sing in the Darbar of Guru Angad. There were two sons of Sajada, Banoo and Saloo, who were the Darbari Ragis of Guru Amardas and Guru Ramdas. Their son Balwand and his son Sata were the Ragis who sang in the Darbar of Guru Arjan.
Mardana is the only Sikh disciple who was permitted to use Guru Nanak's name in his hymns. Guru Angad called himself Nanak the second while Mardana called himself Mardana Nanak 1. There are 3 hymns of Mardana in the Guru Granth Sahib. One hymn of Var Bihagra, which is on page 553 is given here;
......Salok Mardana 1
In the vat of the body, Egoism is the wine. Desire and low cravings are its companions.
The cup of ambition is abrim with falsehood, and the god of death is the cup bearer;
By drinking this wine O Nanak, one gathers multiple sins.
Make knowledge your yeast, the praise of God the bread you eat and the fear of God your meat.
This O Nanak, is the true spiritual food. Make divine Name your sustenance.
Rababis of Nabha - 19th century.
The Sikh State of Nabha is famous for its Rababi musicians. During the 19th century Maharaja Hira Singh appointed Munshi Faiz Bakhsh as head of Rababi School. This was, perhaps the first time when a systematic musical education came into being. All Ragis who perform Keertan were called Rababis. Bhai Munsha Singh Rababi of Nabha was a well-known exponent of this performing art. His disciples have echoed the phenomenon far and wide during the 19th century.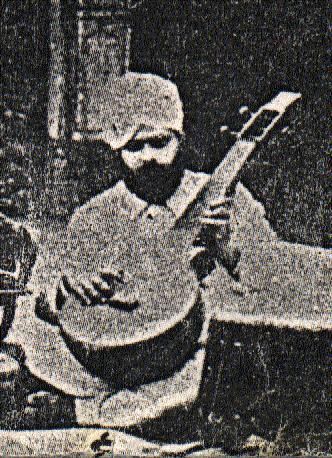 A rababi of Nabha
Nabha and Patiala were rival states. Patiala produced classical musical 'Gharana' while Nabha concentrated on most popular folk tradition including Rababis, Ragis and Dhadis. Unfortunately the music historians have not reckoned the Nabha School of Rababis. Bhai Kahn Singh Nabha , the great author of the Sikh encyclopaedia regrets about the state of affairs. He was the one who added a DRONING string to the Rabab, which served the purpose of the base tone. His dedication to music was profoundly patronised by the great Maharaja Ripudamman Singh who himself was a great Rababi instrumentalist.
There was another family of rababis in Nabha known as 'Barkat Ali Group'. They migrated to Malerkotla during the late 19th century. The famous Rehmat Qawall descends from that family. He was a great Rababi as well as who founded a school of music for the posterity. The Muslim State of Malerkotla is the only region, which remained intact in the East Punjab at the time of Partition. The Begum of Malerkotla was a great Rababi instrumentalist and politician.
Nabha is famous for not only its Rababi Gharana but for manufacturing string instruments. Near Lahori Gate in the City of Nabha you would find a whole range of string musical instrument shops. The chroniclers have neglected this musical city.
We need a systematic and serious study of the most neglected Rababis. Bhai CHAND Rababi was a great exponent of this musical tradition. Although there is a very little recording of his performing the rabab music, yet his memories are enshrined in the hearts of his dedicated listeners.
RABABIS OF KAPURTHALA - 19TH CENTURY.
As the name of the medieval town suggests a chief of a Khatri caste known as 'Kapurs' founded it. It is a small state geographically scattered in the Bist Doab area of the Pantopotamia. It is recorded by an historian of Alexander the Great that his dashing soldiers appreciated the natural beauty and social aspect of this area along the Eastern Bank of the River Beas. But they were fed up with fighting for years and the overpowering homesickness compelled them to force Alexander to abandon his war plans to conquer India. A saint from that area helped the demoralized warrior in face saving. The musical activities were rampant in those hoary past days, which are well recorded by the chroniclers.
Kapurthala was under the Lahore Durbar during the first half of the 19th century. A descriptive account is available about the arts and music scenario of that period. There are two Persian Manuscripts:-
1. Ahmed Shah Batalvi's - History of Punjab.
2. Ganesh Das Badehra's - Char Bagh-i-Punjab, along with Iqbal Namah by Raja Ram Tota of Kashmir, which are in the care of Punjab Heritage Museum, Coventry, U.K.
We hope to present the interesting story of the Rababi Musical World on the basis of this documentation and some oral tradition. There were three centres disseminating vocal and instrumental music in Kapurthala State. The topmost was at Sultanpur Lodhi and near 'Thatta Tibba' village, Phagwara was the second place and Bhunga was the third Art Centre of Kapurthala. It may be noted with interest that the celebrated Sham Chorasi Musical Gharana is the outcome of the Bhunga Art Centre, while Rababis of Phagwara have given us a great child singer in Master Madan (Vocalist)
Mardana Rababi
It is interesting to note that Guru Nanak Dev invited his childhood friend Bhai Mardana to Sultanpur Lodhi (Kapurthala). His old Rabab was in a bad state. Guru Nanak asked him to get the needed money from Bebe Nanki and buy a new Rabab suitable for the forthcoming sojourns (Udasis)
He got seven rupees from Bebe Nanki and went to Kapurthala, which was the centre of instrument making in those days. Over there he met a Rabab Maker 'Bhai Firanda'. He offered him rupees seven and asked for the best Rabab. Bhai Firanda asked about his whereabouts and credentials. He mentioned the name of Baba Nanak, which was well known during those days. Bhai Firanda handed over the Rabab to Bhai Mardana and by returning his seven rupees he requested to take him to Baba Nanak and have His blessings. Mardana agreed to do so. Back in Sultanpur Lodhi, Bhai Mardana returned the seven rupees to Bebe Nanki Ji and introduced Bhai Firanda at the Modi Khana to Guru Nanak. It was a great spiritual meeting when a keertan session took place at the Modi Khana, the work place of the Guru. It is Bhai Firanda's Rabab, which travelled in ten directions throughout Asia and Eastern Europe. Bhai Firanda the carpenter and Bhai Lalo - again a carpenter stand as Pillars of Sainthood in the Sikh History.
Karamat Shah, Suhbat Ali, Kurban Hussain and Rajab Ali have been recorded as the arch-masters of Kapurthala Rababi School. Karamat Ali and Himat Khan went to Bhunga and performed at the famous art centre 'Ram Titwali', which was the summer resort of the Maharajas.
The Rababis of Sultanpur Lodhi were indeed very great. Their disciples were settled in the nearby village 'Thatta Tibba'. The great Ragis Bhai Avtar Singh and Gurcharan Singh hail from this place. The Sultanpur Lodhi School of Rababi Gharana flourished rapidly. Bebe Nanki and Bhai Jai Ram were fond of celestial music and so was Nawab Daulat Khan Lodhi. The Rabab musical activity was spread in far and wide areas and no doubt this was the Golden Era of the Rabab Music.

There are some more names that are connected to the Rababi traditions;
The name of Rajab Ali Rababi of Kapurthala, Qurban Hussain of Sultanpur Lodhi and Damoder Baig of 'Thatta Tibba'. All these arch-masters have been instrumental in shaping the form and picture of Rababi Gharana and their transcendental music, which echoes far and wide in the sub-continent even today.
It won't be out of place to mention Rababis of Jalandhar. Rehma Qwal hails from the family of Abdulla Rababi of the 19th century. The same family trained the filmi singer K.L.Saigal before he joined a theatrical company in Calcutta. The well reputed musical festival; of Northern India-HARWALLABH was started by Rababis in the 19th century. Prof Piara Singh, the master instrumentalist of Rabab and Taar Shehnai (Ustad of S. Baljit Singh Namdhari) also hailed from the same school of music.
Haryana (a small town) and Bhunga (Kapurthala) produced a number of great Rababis according to oral tradition. The only surviving gharana is that of 'Sham Chaurasi' (Nazakat Ali & Salamat Ali hail from this Gharana). Bhai Chand who performed Keertan at the Golden Temple for a long time hailed from the Kapurthala School. Brahm Giani Sham Singh was a great Rabab and Saranda player of that period. He came from Sultanpur Lodhi (Kapurthala) and settled in Amritsar where he started a school of his own style of music.
Further research has revealed that a tradition of Rababi Music was started from Kapurthala by a great historical figure S. Jassa Singh Ahluwalia, who defeated Nawab Bhatti and established the present Sikh State of Kapurthala. Earlier he founded the village of "Ahluwal" in the Lahore District- that is why the surname 'Ahluwalia' came into being. A well known scholar Zaigham, hails from the same village.
It will be interesting to note that S, Jassa Singh Ahluwalia was a great Rabab instrumentalist and 'Keertan Kaar', who patronised the Kapurthala Rababi Gharana as well.
Later on, a great admirer and supporter of art and music, Maharaja Ranjit Singh patronised performing Arts including the Rababi Gharana of 'Doaba' and established a great centre of all Arts in Haryana and Bhunga. Here artists of all sorts including Rababis and keertanias and mural painters, studied at the expense of the State.
POPULAR MUSICIANS (RABABIS & KEERTANIAS) OF THE SIKH FAITH
1. Bhai Mardana: The first Rababi, a very close friend of Guru Nanak, stayed with the Guru for 58 years. He was so near the Master, that Guru Ji said:-
"Mardaneya jithey tera vasa, uthey mera vasa" (I reside where you reside O Mardana)
It is said that Bhai Mardana was the Guru of Swami Haridas who in turn was the Guru of the famous Classical Singer in the court of Emperor Akbar, Mian Tansen.
2. Bhai Balwand and Sata: Balwand used to perform in front of Guru Nanak at Kartarpur, then later on at Khadur Sahib, Goindwal and at Amritsar with his son Sata. They have a 'vaar' in Raag Ramkali, which Guru Arjan Dev Ji included in the Adi Granth.
3. Bhai Babak: He was, during the time of Guru Hargobind, a renowned Rababi, who was also a very keen horseman.
4. Bhai Abdulla and Nath Mal: These two sing 'vaars' with the Dhad and Rabab during the time of Guru Hargobind. They were famous for singing at the Akal Takht.
5. S. Jassa Singh Ahluwalia: 'Sultan-e-Qaum', S.Jassa Singh got the urge to sing from his mother after the death of his father S. Bahadur Singh. Mother and son went to Delhi and stayed with Mata Sundri Ji (wife of Guru Gobind Singh), where the young Jassa Singh learned and performed keertan. Nawab Kapur Singh was very impressed with lad, and took him with him to Punjab, where later the leadership of the Sarbat Khalsa was designated to him.
6. Bhai Mansa Singh: A very selfless person, who even refused any financial help from Maharaja Ranjit Singh, saying that it is not right for a keertania to anticipate from anywhere else other than from his Guru.
7. Bhai Sham Singh: Bhai Ji was known as 'Braham-Giani Bhai Sham Singh Ji', and performed at the Harmandir Sahib for 78 years. A very spiritual person, whose music was considered as most divine. He survived a ling life of 123 years, which was spent in keertan meditation.
SHAM SINGH, SANT (1803-1926), holy man who was also an accomplished musician, was born in 1803 to Bhai Darbari and Krishan Kaur, a couple of humble means belonging to the SevapanthI sect of the Sikhs and inhabitants of Shahpur, in Sargodha district of Pakistan. His father died when he was barely five year old. Sant Ram Singh, a Sevapanthi preacher originally belonging to Mirpur, in Jammu and Kashmir region, took him under his care and moved, along with his young ward, to Amritsar where he stayed at Dharamsala of Addanshahis - another name for Sevapanthis. After his preliminary training in scripture reading, Sham Singh studied Sikh theology and history successively under the guidance of Pandit Atma Singh and the Nirmala scholar, Thakur Dayal Sihgh. Having an ear for music and a good singing voice, he learnt Sikh devotional music from Baba Naudh Singh and became an eminent performer of kirtan specializing in playing saranda. He would daily sing Asa ki Var in the morning in Harimandar, the Golden Temple, and Sodar in the evening at the Akal Takht where he attracted large audiences.
Sant Sham Sihgh led a simple life of self-effacement and service, and came to command great esteem and reverence. Bhai Vir Singh (1872-1957) and Sardar Sundar Singh Majithia (1872-1941) are said to have taken khande di pahul at his hands. It was he who inspired Sant Gurmukh Singh of Patiala (1849-1947) to take up kar-seva (cleaning, construction and reconstruction projects at Sikh shrines with free voluntary labour) as his life's mission.
As Sant Sham Singh grew too old to go to Harimandar, his devotees built in 1911 a gurdwara for him in the Ata Mandi sector of Amritsar. They called it Dharamsala Sant Sham Singh, but he changed the name to Dharamsala Sri Guru Nanak Devji - Dasan Das Sham Singh (dasan-das literally meaning slave of slaves). He died of pneumonia on 23 April 1926 at the great age of 123. (courtesy Encyclopaedia Sikhism)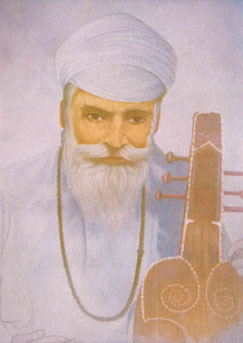 Bhai Sham Singh Ji
8. Bhai Hira Singh: Born in 1879 and died in 1926, this very melodious and sentimental keertania was a favourite with Sikhs and non-Sikhs as well, and was instrumental in bringing them together.
9. Bhai Chand: The last of the Rababi tradition, whose deliverance of the music used to touch the inner souls of the listeners.
10. Bhai Surjan Singh: Bhai Sahib performed keertan reg
11. ularly for 30 years. His pitch was unusually very high and melodious.
12. Bhai Santa Singh: A modern keertania, who was very particular about the 'Sur', 'taal' and 'Shabad'. An expert in classical music, whose favourite raags were 'Assa' and 'Basant', of which he was a master.
13. Bhai Samund Singh: He died in 1972 at the age of 68 years. An expert ragi of immense knowledge of the Raags in Guru Granth Sahib, which he used to sing to perfection. His deliverance in raag 'Sorath' was unique which only a few can emulate. (see also his section.)
14. These are some of the old Rababis, keertanias and ragis, who laid the foundation of the Sikh School of Music. This tradition is hardly adhered to by the modern Ragis, who have reverted to the 'Filmi' style of music, just to earn more money from the naïve public. Only a handful of Ragis have kept the tradition of 'Gurmat Sangeet' alive. The Namdhari sect is one where Gurbani Music is sung according to the rules laid out in the Guru Granth Sahib and the old tradition.
(Courtesy A.S.Gossal-'Sikh Dharam and Sangeet')
(The following excerpt is with courtesy of Madanjit Kaur author of "The Golden Temple")
SOME FAMOUS RABABIS, RAGIS AND KIRTANIAS
OF THE GOLDEN TEMPLE

Rai Balwand and Bhai Satta were the first rababis to serve the Harimandir under the patronage of Guru Arjan Dev. Then came Bhai Babak. He was a skilled rababi and a warrior of Guru Hargobind's time. He served the Temple for many years and also took part in the Battle of Amritsar (AD 1634) fought by Guru Hargobind against the Mughals. Babak died at Kiratpur in 1642.
Bhai Abdullah and Bhai Natha were the famous dhadhis employed by Guru Hargobind to sing vars (heroic ballads) at the Akal Takht. Bhai Abdulla's full name was Mir Abdullah. He belonged to the village of Sursing, District Amritsar and was an expert rabab-player. His companion, Bhai Natha belonged to Sultanwind, District Amritsar. He played on the dhad. Bhai Abdullah and Bhai Natha were very popular in their time.They, it is said composed many heroic ballads.
The kirtan services got regularised after Bhai Mani Singh was appointed manager of the Harimandir in AD 1721 for the second time. A number of rababis and ragis served the Temple ever afterwards. Of them a few of note were
1. Bhai Mansa Singh (Maharaja Ranjit Singh's time).
2. Bhai Boora (appointed in 1880).
3. Bhai Sham Singh Addanshahi (b. 1803, d. 1926).
4. Bhai Hira Singh (b. 1879, d. 1926).
5. Bhai Gaja Singh (early twentieth century).
6. Bhai Chand (served the Temple for a long time in the pre -partition days).
7. Bhai Moti (served the Temple for a long time during the pre partition days).
8. Bhai Lal (served the Temple for a long time during the pre partition days).
9. Bhai Hira Singh (b. 1879, d. 1926).
10. Bhai Santa Singh (b. 1904, d. 1966).
11. Bhai Sunder Singh (d. 1938).
12. BhaI Sher Singh Ragi, Gujiaranwala (d. before partition).
13. Bhai Surjan Singh (b. 1911,d. 1965).
14. Bhai Samund Singh (b. 1904, d. 1972).
15. Bhai Gopal Singh (d. 1974).
A few of the prominent ragis and keertanias of the present time are:
1. Bhai Gian Singh Giani 'Almast'
2. Bhal Bakshish Singh
3 BhaI BaIbir Si ngh
4. Bhai Gurmej Singh
5 Bhai Amrik Singh
6. Bhai Vir Singh
7. Bhai Surinder Singh
8. Bhai Hira Singh
9. Bhai Shamsher Singh
10. Bhai Chatar Singh
11. Bhai Gurmel Singh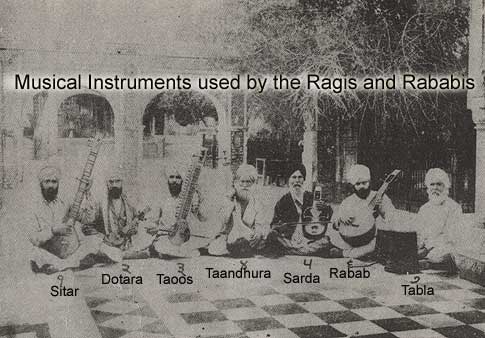 Bhai Sain Ditta
During the 19th C. at Amritsar, there were 2 rababi brothers of the names of Bhai Mehra and Bhai Kheira. Bhai Kheira was sometimes also known as Giddu.
A great Pakhawaj player, Bhai Mohammed Baksh alias Baba Mahnda used to accompany them on this instrument. He was considered 'The Avtaar of Pakhavaj'.
Bhai Kheira had two sons, Bhai Labhoo and Bhai Sain Ditta. Bhai Sain Ditta like his predecessors made a name in the music world. First four gramophone records were made in his voice in 1907 AD. One in Bhairvi 'A ja vey gale lag aa ker pyar'; in raga Khamaj -'Kaise bahar gule beisur harson chaman mein' (record no. 4163e-4-12262); in raga Tilang Tilwara; and a shabad 'Re nar eh sachi jia dhar' in 'jog tilwara'.
The same year, there were some more recordings done by him, which were - 1. 'Tu ghar a sajna dekhan darshan tera' in Pahari Kahirwa & 'Ghol ghumai lalna, Gur manu dina. Sun Sabad tumhara mera manu bheena'. 2. P87 'Mangao daan thakur namu' in Bhairvi and another one in Bhairvi 'Satgur aiyo saran tuhari, miley sookh namu har sobha, chinta lahe hamari.' 3. P876, 'Koi aan milavey mera pritam piara, hao tisu pahe aap vechai''- in Kosia and on the other side was in raga Mand, ''uchal kathore''..''
Besides these Punjabi songs, an Urdu song was also recorded with harmonium accompaniment, 'Tu bhar bhar jaam pila gule lala, Rang wala joban wala, sab se aala'.
In the beginning of the 20th century the gramophone companies were on the lookout for good artists and because of this Sain Ditta's brother Bhai Labhoo also made a record in light classical, which was "Lachhi", 'Aaho ni, lachhi dian gol pinia' and on the other side, in Pahari was 'Nimboo rupey de chaar mundeya'. Bhai Sain Ditta similarly recorded another couple of songs - one in Bhairon , 'Sun larkey zargar de, pauhunchi kiun nahin dinda gharkey.' And the other side in Piloo, 'Na chhed areya, peed karende nazuk bundey.'
The holy place of Amritsar boasted many accomplished rababis and ragis but after the renowned Bhai Moti, the name of Bhai Sain Ditta was the one, which was reckoned to be one of the most proficient of rababis. He lived in the in the Chaunk Pasia in the Koocha Rababian in Amritsar. He was particularly known for his 'Dandaut' (Manglacharan). He used to teach in the Central Khalsa Orphanage from 1914 to 1932, as an Ustad, and Sikh Ragis like Bhai Santa Singh, Bhai Surjan Singh, Professor Darshan Singh Komal and 'Tabla Nawaz' Bahadur Singh were some of his notable students.
He had opened a school of music in a 'Bunga' behind the 'Gaoo ghat' in the 'Parkarma' of Darbar Sahib. To promote music he had also opened a shop where music instruments were sold and along with Lala Dholan Dass in partnership he had an agency of kerosine oil. His prominence and respect in the Darbar Sahib was known by the fact that he was allocated ample 'Karah Parshad' (Khula Gaffa), whilst the others were given just a handful.
Those who had the privilege of listening to him still remember him as one of the finest and melodious of ragis, who was also an expert on the harmonium. They still remember his 'Swars' of raga 'Malhaar', which was performed during the rainy season and the melody of which always mesmerised the listeners.
The sweetness in his voice had an electric effect, which is proved by the following letter, written during 1929/30, when during the summer drought, his song was responsible for the fall of rain. The letter by a novelist Sujan Singh is thus:-
"Bhai Sain Ditta was a 'Hazoori Rababi'. His time for 'Chaunki' (music time) was from three till five in the afternoon. His co-singer was his very talented son Bhai Desa and on the tabla was Bhai Santa. I was eleven years old and had just arrived from Calcutta. I had heard that Bhai Lal and Bhai Moti were previously hazoori ragis. Bhai Moti had died and Bhai Lal was amongst the famous ragis, which I had the privilege to listen to at 'Durgeana Raag Darbar' during Holi. But now he had retired and did not sing any more.
While he was crossing the bridge, the Sangat requested Bhai Sain Ditta to perform keertan Bhai Sain Ditta never used to sing any songs, which were not from Gurbani. Although being a Muslim he was a very devout follower of Sikhism. I do not remember the 'Shabad' nor I had the knowledge of classical music at the time, but this I saw with my own eyes. Elders say that it was Raga 'Malhaar' or 'Megh Malhaar', which Sain Ditta rendered. There was not a cloud to be seen in the sky on his commencement, but slowly clouds started gathering from the side of 'Baba Atal'. The 'Chaunki' was for two hours and after one and half hours it started to drizzle and at the end of 'Chaunki', it was raining in torrents.
When the Sangat complimented and started to thank Bhai Sain Ditta, he only said that, 'Satguru has saved his honour'.
Yours,
Sujan Singh.
P.S. It was a holiday and Bhai Sain Ditta's 'Chaunki' was crowded with people. I was standing behind his 'Jatha' when all the above took place. As the rain showers kept falling, the Sangat kept on showering Bhai Sahib with money. At that time it was allowed to present the ragis with money at the Darbar Sahib.
In the words of one of Bhai Sain Ditta's grandsons, Asif Sheikh, who is living on Multan Road, Lahore, the following information was received -
"This unique singer of Gurbani died at Amritsar in 1932. He had two sons - Bhai Desa (1905-1973) and Bhai Mulkha. Bhai Desa's one son Mohammed Afzal is an accomplished mandolin player, who regularly plays for Radio Pakistan, Lahore."

We have pleasure in presenting the following article and poetry on 'Rabab' by Chris Mooney Singh, who is an exponent of this ancient instrument . Australian-born poet-musician Chris Mooney Singh became a Sikh in 1989. Since then he has been researching into Indian spirituality, culture and heritage. In 1999, he performed with rabab in Harimandir Sahib, Amritsar for the first time in 100 years and has created the first-ever replica of Guru Gobind Singh's rabab. On March 17 he was presented the Bhai Mardana Award by Punjabi Sath, Jullundur for his efforts toward Gurmat sangeet revival. In 2001 he founded The Rabab Research and Education Foundation, a Charitable Trust registered in Chandigarh of which he is Chairman.
Al Rabab - the Guru's Instrument
By Chris Mooney Singh,

In the beginning was the Word,
but without rabab - who would have heard?
Adi rabab, from whence did you arise?
To sing your song is its own reward.
Throughout its long and ancient history, the noble rabab has helped to express some of the highest sentiments known to humanity. Guru Nanak made the instrument famous when he chose Bhai Mardana Rababi, his Muslim-born companion to accompany the singing of divine shabads. Thus, the rabab became the true emblem of shabad kirtan for all time.
The ancient rabab is a shared tradition of Eastern civilization. During the last 1000 years it defined the merging of the best of things Islamic and Hindustani. Loved by all, it was a musical bridge between the pre-existing philosophical systems and helped to create new ones like Sikhism. It symbolized the mystical marriage between poetry and music and evoked a sense of timeless expression that can not be erased from racial memory. Once heard in royal courts and played under the trees by bards, minstrels, sufi fakirs and other religious mendicants, it was known as rabab al mughanni (the singer's instrument) or rabab al shair. Always associated with poetry, reflection and moments of spiritual elevation, al rabab seems to have originated in Northern Afghanistan or Iran. The earliest known record has been traced 2000 years ago to the archaeological excavations at Nangarhar.
Although its deepest roots are in Central Asia and the Middle-East, the rabab's influence has reached as far east as Indonesia, Malaysia, Brunei, Thailand and west to regions of Europe and Africa. Its diffusion is closely tied to the growth of the Islamic world and the development of extensive trade routes after the 10th century. The generic name for skin-covered world music instrument, either plucked or played with a bow, al rabab gave rise to the European rebec, played on the knee, or lap like a sarangi. This is the early forerunner of the western violin and near cousin of the tenor banjo, guitar, mandolin on one hand, and the father of the Indian sarod on the other. Rabab is the predecessor of them all.
It came to India during the Gaznavid invasions of the 11th Century AD. Entering North Indian music it was highly celebrated in the poetry of Amir Kushrau, becoming the leading instrument of the Mughal drupad period from the time of Tansen. The body, shaped like a tortoise shell, is 3-4 feet in length with a long elegant neck. Plucked like a guitar, al rabab has a deep and resounding voice. With the shift away from drupad forms to lighter classical music, the instrument went into decline. The smaller short-waisted Afghani rabab is still heard in the folk-music of Kashmir.
At the same time, Guru Nanak and Bhai Mardana walked 38,000 kms for more than 20 years throughout India and the ancient world. He chose the rabab because it was already well accepted by Hindu-Muslim cultural milieu in which he moved. Most likely, Bhai Mardana's instrument would have been light and portable, for the Guru's performances took place under trees, on mountain-tops, in forests and in deserts. Thus, the rabab has always been loved as an instrument that evokes the spirit of simplicity and of nature itself.
Perhaps it is the naturalness of the rabab's unique sound that led Al-Farabi - the early Arabic scholar in his "Book of Music" to describe it as the instrument that most closely resembles the human voice. The word itself means 'to resonate.' No doubt this has mystical connotations in the context of Indian philosophy where the inner Amrit-pani (nectar of immortality) is experienced through subtle vibration of sound - in the same way that a pond ripples when a stone is thrown, agitating the surface from its epicentre. Considerable research in the sound laboratory indicates that string instruments produce such pleasing and subtle tones that can heal the physically and mentally ill and can hasten 'super-learning' responses in controlled environments.
As Sikhism grew, the size of rabab also increased more than four feet in length so that it could be heard in larger group congregations. Thus Guru Gobind Singh's rabab (given at a gift to Maharaja Sidh Sen around 1692) now on display at Suket Mandi Gurdwara in Himachal Pradesh is a typical drupad rabab with a deep and resounding bass tone, plucked and strummed. Combined with bowed instruments of the shabad kirtan parampara - siranda, taus and dilruba, a rabab played in this manner continued to be the leading instruments of Sikh sacred music up until the end of the 19th Century when the noble rabab was replaced by the expedient and dull-sounding German harmonium. Played by a rising generation of 'roti ragis' they led classical kirtan off the main path of devotional worship.
It is no co-incidence that as traditional instruments disappeared from the kirtan darbar, the rich classical performance tradition as enshrined by the Sikh Gurus dissipated and disintegrated. The ordinary listener, too, lost the ability to relish kirtan in its pristine form. By the second half of the 20th Century, ragis had begun employing romantic 'filmi' tunes to gain easy popularity and commercial success. With the waning of the rabab and the tradition it symbolizes, many other negative trends have gained ground in contemporary Punjab. Ethnic and indigenous ways of life have been interrupted forever by globalisation and 'music-for-the-eyes' satellite MTV culture. Thus, Punjabi pop-singers are now idolized as demi-gods, while religious singsrs are perceived as money-grabbers. This is the reality of aesthetic values in Punjab today.
Despite the adverse affects of rapid technological materialism and what this is doing to the traditions and heritage of Eastern civilizations, the pure spirit of music only disappears temporarily from view. Like a natural underground spring, it never really dries up; it finds new openings like the Rabab Research and Education Foundation www.rabab.org - registered as a Charitable Trust, based in Chandigarh and Ludhiana with branches in Singapore, Australia and the UK. There is a growing interest in the rabab as a symbol of revival of traditional, spiritual and artistic values.
The original rabab of Guru Nanak may have disappeared in the pilgrim dust of history, but the rabab of the 10th Sikh master has survived providing a vital link of continuity with the past. For ethnomusicologists, it is a rare artefact and for Sikhs it is a priceless relic that gives a new way to look at the personality of Guru Gobind Singh. Locating it and making a replica with the support of the SGPC Dharam Prachar Committee, Gurdwaras of Singapore and many individuals from Malaysia, Canada, UK and Australia has been the inspiration for the development of various classical designs and newer versions of the rabab. In 2000, The Rabab Foundation established the Rabab Seva Workshop - a vocational training program for village youth in Amritsar district where they are learning the art of instrument-making and gaining employment. The Rabab Foundation has also established classes under qualified ustads along with the Bebe Nanaki Rabab Scholarship Program to train gifted and needy students in Mohali and Ludhiana. Thus, the rabab is now being heard once again in places of Sikh worship and on the concert stage. The Rabab Foundation is also commencing its 'Student Music Contact program 2000' which aims to introduce the rabab and other classical instruments through exhibitions, lecture demonstrations and hands-on tanti-saz workshops to schools, colleges and institutions.
The Twentieth Century may not have been the rabab's century, but perhaps the 21st will be - for the ancient rabab perfectly represents the spirit of revival, unity and cross-cultural dialogue at a time when the planet is moving toward global civilization. Music, is the one universal language that is instinctively understood by all, promoting peace, tranquility and harmony. It can help repair the torn fabric of heritage, spirituality and tradition which is the bedrock of civilization. The soothing tones of al rabab are a much-needed balm for our troubled times.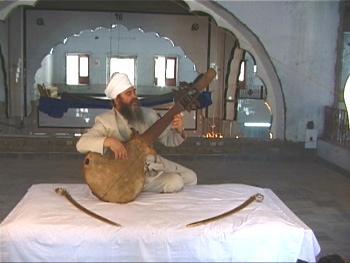 Chris Mooney Singh playing the RABAB
Come and sit at the navel of the earth,
The birth-place of the Adi-Granth.
See winter shawls, each down-flowing turban.
The sangat listening; the four doors are open.
Rababi art expounds Inside the Guru's Word,
Praise of the Name ascending like a bird.
Hope is fluttering; time has no end
As longing flies to meet the beloved Friend.
The rababi plucks his round-bodied saj -
It's face of goat-skin, the neck - long and large
Resonating deeply - the six taut strings
Tuned to the Sound that the cosmos sings.
How rabaab vibrates within the soul
No one can say exactly. The whole
Of the Nam of Nanak is heard within
Plucking heart-strings and praising the One.
The seva of kirtan began with Mardana;
His descendents maintained the rababi gharana.
Generations have sung since the Guru's day.
Walls dissolve when their instruments play.
Some could sing the rain from a raga,
Through shabad's power and sur sadhana.
The science of song only rare ones hold,
Passed from Guru Nanak like precious gold.
Kirtan is the bone-marrow of this place -
Its golden walls and upper-vaulted space.
The Lord is Sound: the Resonance lives on
At Hari Mandir Sahib, the Temple of Song.
A mother and child have had their darshan;
Sparrows come and go, the doors are open.
The scene's the same as the painter once saw:
Worship through music sits humbly on the floor.
For more on the Rabab see web site: http://www.rabab.org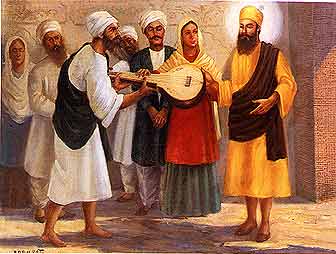 Bebe Nanki paid seven rupees for the rebab, which was bought from Bhai Firanda, although Bhai Firanda did not accept any payment, he was blessed by Guru Nanak. Here Bebe Nanki is seen with her husband Jai Ram, giving the Rebab to Bhai Mardana, which is another version of the story.
Bhai Mardana - an analytical study of his worldly and mythical life.
Bhai Mardana, as we know, was a staunch disciple of Guru Nanak. He was a top class singer and the first Rabab player of this earth. He was also an excellent poet, which resulted in his poetry being included in the Adi Granth Sahib on page 553. His devotion and love for Guru Nanak was legendary. Guru Nanak considered him to be an integral part of His life and always kept him by His side on all His divine journeys till Mardana's death. In fact their relationship was of a pre-determined and spiritual nature - such relations are not made on earth but are heavenly made.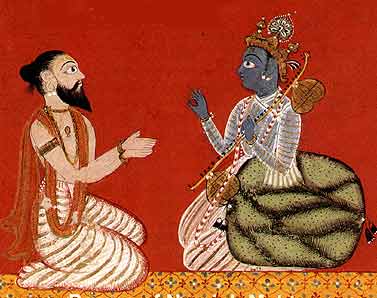 Maharishi Narad being given the 'Narad Veena' by Lord Vishnu
This 'Narad Veena' (or Ravan Veena) is in fact the earliest name of the modern 'Rabab', the musical instrument of Bhai Mardana.
It is a historical fact that the 'Rabab' is the invention of Guru Nanak, who instructed another of His devoted Sikhs, Bhai Firanda to manufacture a 'Rabab', which, was later on to be the musical accompaniment of Bhai Mardana throughout his life.
Guru Nanak, the saviour of the 'Kalyuga' was the first Guru of the Sikhs and was an epitome of music and poetry, which can be seen from His 'Bani' in the Adi Granth Sahib. Guru Arjan compiled the Adi Granth and the 'Banis' of all Gurus were canonised in the musical stanzas of their original modes.
It was extremely essential that a godly person like Nanak, who was an accomplished musician, divine person and an excellent poet should be accompanied by a person with a similar knowledge of music and poetry. A person who would understand the intricate moods of poetry and divine music and be a constant companion. This person chosen by Guru Nanak was no other than Bhai Mardana.
In the Hindu mythology it is known that all the 'Avtaars' incarnated with their assistants, friends and relations who helped them during their stay on this earth. For example we know that Lakshman and his brothers plus the immeasurable assistance of Hanuman helped Lord Rama on his divine incarnation in the 'Treta Yuga'. It is also an historical reality that Balram and Arjuna etc.were Lord Krishna's best companions in His divine incarnation in the 'Dwapara yuga' Similarly we can assume the characters of Bhai Mardana and Bhai Bala, who were constantly in the attendance of Guru Nanak, who according to the Bhatt's in the Adi Granth, was the incarnate of the Almighty himself in the 'Kali yuga'..
Although there is no documentary proof but I presume that Bhai Mardana was no other than the incarnation of Sage Narad. Both these personalities have exceptional similarities, which cannot be ignored. Their personal characteristics are that of a light-hearted and impish nature, which is an essence of many parables with Guru Nanak and Lord Vishnu. Furthermore let us inspect for example the initials of their names:-
M R D N (Mardana)
N R D Mn (Narad Muni)
As can be seen from above that the names of both these personalities have the same name letters (Co-incidence? May be, but can we shirk away from the fact that both are accomplished divine musicians and both have been given instruments of divine nature by two godly powers?)
Although the characters of Bhai Mardana is not revered similar to the character of Guru Nanak but never the less his importance in the life of Guru Nanak is extremely significant and Guru Nanak without Mardana is something that cannot be envisaged.