Diwali, a corruption of the Sanskrit word Dipawali, literally means a row of lights. The festival of lights observed annually in honour of goddess Lakshmi, is celebrated throughout the country with great rejoicing in the month of Kartika (October-November). Every Hindu, whether rich or poor, celebrates this festival with great delight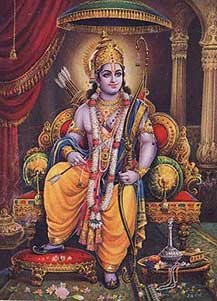 Guru Hargobind being released from the Gwalior Jail along with 52 Rajas, who held the strings attached to the dress of the Guru, hence the Guru was called "Bandi Chhod".
Co-incidently it was Diwali day when the Guru reached Amritsar - so this added another attraction to the celebrations of Diwali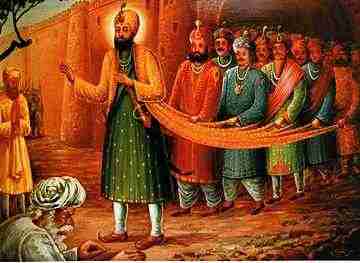 Every Hindu home is white-washed and properly cleaned a few days before Diwali. On the evening of the Diwali day, Lakshmi, the goddess of wealth, is worshipped along with Ganesa. Then people illuminate their houses, courtyards, outer walls, roofs, gates and gardens, etc., with oil-filled little earthen lamps, candles or electric bulbs. Some buildings blaze with neon lights. It is also customary to leave an open lamp of burnt clay filled with ghee or clarified butter throughout the night at the place of worship for the welcome of goddess Lakshmi. Fireworks are also displayed in front of almost every house to Ward off evil spirits from that area.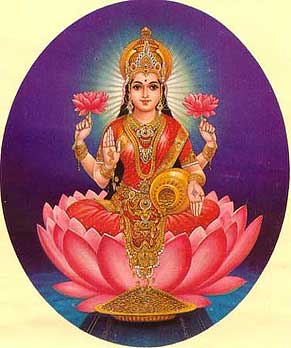 Goddess Laxmi -Goddess of Wealth/ prosperity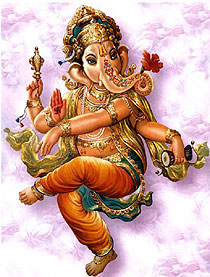 Lord Ganesha
The markets, streets and all the public places are decked with small glittering lamps. Diwali heralds the approach of winter and winter crops are sown. People wearing new clothes exchange greetings and send sweets to their neighbours, friends and relatives. Some people including women indulge in gambling on the Diwali night, though under the Gambling Act, many gamblers are arrested every year on this occasion.
The legendary king Vikramaditya was crowned on this day at Ujjain. This marked the commencement of the era named after him. Businessmen open their new account books on this day.
On this night, when the people of rest of India worship Lakshmi, the Bengalis worship Kali. Spectacular images of Kali are installed, adorned and wor-shipped before immersion in a tank, river or sea.
The worship of Kali
Lord Rama-after whose exile the diwali festival took its form
The Deepmala at the Golden Temple Amritsar on Diwali Day.
Several legends are associated with this festival. According to one, the festival marks the destruction of demon Narakasura of Pragjotishpura (in Assam) by Lord Krishna. Some celebrate it as Rama's victory over Ravana of Lanka and safe return from exile to his capital Ayodhya. Some say that when Vishnu in the form of Vamana had sent the demon king Bali to the nether world, goddess Lakshmi was also freed along with others, who had been held captives by the demon king. The Sikhs also regard it as an auspicious day, because their Guru Hargobind Sahib was freed by the Mughal Emperor Jahangir from the Gwalior Jail