From Lehna to Angad
Harjinder Singh Kanwal
Lehna, whom Guru Nanak, the founder of the Sikh panth, selected as his successor, was born on 31st March 1504. A Khatri of the 'Trehan' class, his father Bhai Pheru was a trader living in the village of 'Matte di Sarai' near Muktsar in the Firozepur district of Punjab with his wife Daya Kaur, previously known as Ramo. Later on, he moved to the village of 'Harike' for better prospects.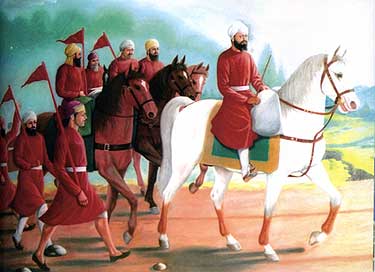 Bhai Lehna with Sangat going on holy tours
When Lehna became of age, he was married to a girl named 'Khivi' who was from the village of 'Matte di Sarai', where the family returned sometimes later. Here one daughter Amro and two sons Dasu and Datu were born to Lehna and Khivi. But their stay at 'Matte di Sarai' was short lived as the Mughals and Balochs depredated the district, and the family moved to Khadur near Tarn Taran in the Amritsar district.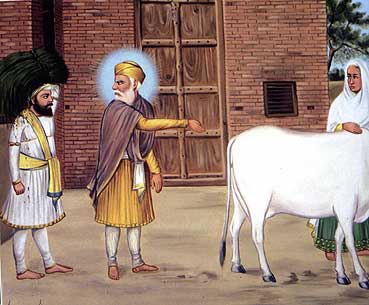 Guru Nanak blessing Lehna after seeing him drenched with filthy water and saying that it was 'amrit' not dirty water which was spoiling his clothes. It was here that Guru Nanak named Lehna as Angad after taking him in His arms.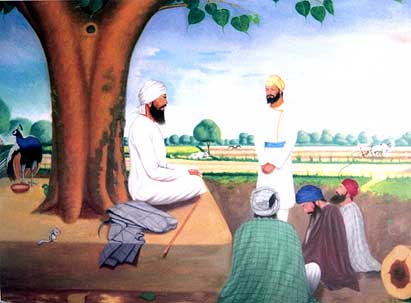 Lehna in presence of Guru Nanak
Possessing an immensely religious and pious personality, inherited from his mother, Lehna lived a normal life of an ordinary householder. Here at Khadur, the worship of the Devi Durga was very popular and hence Lehna was also attracted to the devotion and homage of the Devi. His religious zeal and leadership qualities made him organise annual pilgrimages of devout Hindus to Jwalamukhi, a shrine of the Devi in the lower Himalayas, where the divine presence is symbolised by fire emanating from the mountains. Pilgrimage to the Jwalamukhi is considered very auspicious for an orthodox Hindu.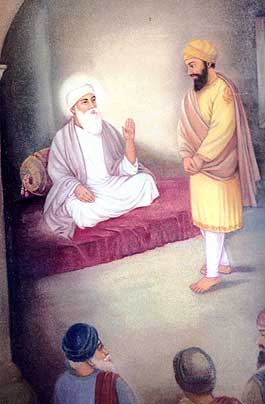 Guru Nanak blessing Angad
Meanwhile Guru Nanak had already established himself at Kartarpur and a Guru's Sikh by the name of Jodha, living in Khadur, used to recite the Guru's Bani, which once reached the ears of Lehna. Lehna was taken aback by the sheer simplicity, sweet and divine recitation of it and his innermost feelings were deeply aroused. Jodha told him that this Bani was composed by Guru Nanak who was living in Kartarpur. Lehna felt an irresistible urge to meet the Guru who had composed such a benign and heavenly Bani. The urge to meet such a Guru started to develop in his heart and this opportunity was provided when the next annual pilgrimage to Jwalamukhi was undertaken.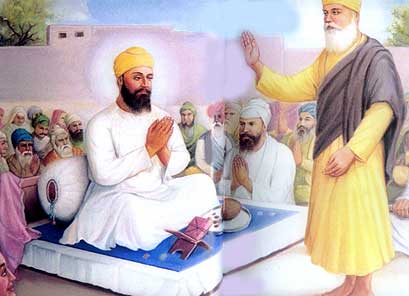 Guru Nanak bestowing the Gurgaddi to Guru Angad after putting 5 paise and a coconut in front of him
The pilgrims' journey was broken at Kartarpur, where they decided to pay a visit to Nanak before proceeding to their final destination. This was Lehna's first casual meeting with Guru Nanak but it had far-reaching consequences on his life. Guru Nanak's discourse had so much profound effect on Lehna that his truth-seeking anxious soul completely melted and surrendered to the divine glow of Nanak. He there and then decided to stay with Nanak and told his other pilgrims to proceed without him. Thus began the most significant phase in the humble and devoted life of Lehna.
Guru Angad listening to Bhai Bala who is narrating the Sakhis of Guru Nanak to the writer Paira Mokha - which later on was called the 'Bhai Bala wali Janam Sakhi'.
Lehna devoted all of his time in listening and digesting in earnest, the 'discourses and conversations' of Guru Nanak. His limitless dedication and unqualified submission to Nanak distinguished him from the all other followers. Several anecdotes figuring prominently in the Sikh tradition indicate that Lehna acquired the attributes of a true disciple, which were later explained by Bhai Gurdas in his 'Vaars':-
To become a disciple is, as it were, to become dead.
It cannot be done by words. A disciple must be patient, faithful, possess a martyr's spirit, and free himself from the superstition and fear. He must be like a purchased slave fit to be yoked to any work, which may serve his Guru. He must never be hungry, and never require sleep. He must be ready to grind and bring fresh water for his Guru. He must be ever prepared to fan and wash his Guru's feet. He must be a sedate servant and never laugh or cry.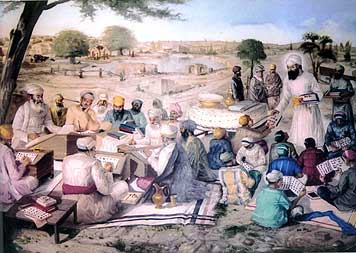 Guru Angad opened schools for teaching and developing the 'Gurmukhi' language, the alphabet of which was initiated by Guru Nanak.
Sensing his end was near, Guru Nanak decided to test his disciples' devotion and obedience with a view to selecting his successor. The nature of the tests and Lehna's responses were centred on the virtue of obedience and he emerged as the most appropriate candidate to carry the burden. His obedience was unqualified and unquestioning as he devotedly obeyed the Guru's orders.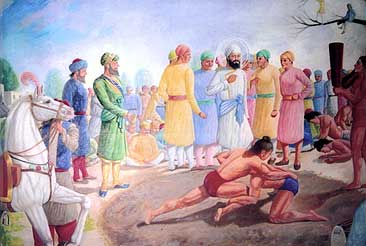 Guru Angad encouraged sports and had the children play and exercise in such a manner which would benefit their health.
The Guru had already started calling him 'Angad'- a 'part' of His divine body after he had embraced Lehna and blessed him with this name.
Guru Nanak had tested his Sikhs and his sons, and the whole sect saw what he had done. It was when Lehna was purified that Guru Nanak consecrated him.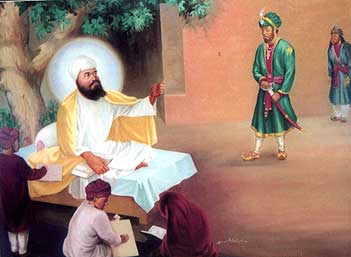 Emperor Humayun who after losing a battle came to visit Guru Angad, who was sitting in meditation, drew his sword at being ignored. Guru Angad told the deposed king that he should have drawn the sword in the battle field and not in front of 'fakirs' (ascetics). Anyway the Guru blessed him after Humayun pleaded sorry. The Guru blessed him for the return of his kingdom in due course.
It was in the interest of the Sikh faith as also of the community as a whole that Guru Nanak took the momentous decision of 'proclaiming the accession of Lehna as the reward of service'. The significance expressed by Nanak on complete surrender to the Guru's will formed a part of the core of his teaching and became a striking feature of the organisational solidarity, subsequently of the Sikh community. Thus was Lehna 'purified' by his sincere and forthright acceptance of the duties of a true disciple. Verses from 'Tikke di Vaar' (Satta& Balwand's)indicate the transformation of the disciple into the Guru:-
"Guru Nanak, in bowing to Guru Angad, reversed the order of things (made the Ganga flow backwards), and everybody said, 'What is this he hath done?'
Again:
He put his umbrella over the head of Lehna who was then exalted to the skies."
This is how the new 'Guru' was 'produced' from the old Guru's body:
"Guru Nanak's light blended with Guru Angad's and Guru Nanak became absorbed in him." And
"A scion of Guru Nanak exchanged bodies with him and took possession of his throne."
This concept took firm basis in Sikh tradition. Bhai Gurdas writes:
'Merging (his) light in (Guru Angad's) light the Satguru changed his form.' Again: 'Changing his body he made (Guru Angad's) body his own.'
Guru Gobind Singh in his Magnus Opus autobiography, Bachitter Natik, says, "Nanak assumed the body of Angad".
Guru Angad took over the responsibilities of Guru Nanak's emerging panth. The disciples of Guru Nanak would no doubt have soon dispersed and gradually disappeared if he (Guru Nanak) had not taken care to appoint an able successor before his death. There were threats from three directions. The swallowing of the community by the declining Hinduism, or it might have gravitated towards asceticism, the Udasi tradition, founded by Guru Nanak's son Siri Chand, or it might have succumbed to the aggressive impact of the Islam in its Sufi form. Although the appointment of a new successor was not an assurance against any of these threats, but the challenging task entrusted to Angad was ably met by his personality and leadership qualities that were previously latent in his character. Without losing his natural humility he developed a quiet firmness needed to override any obstacles. He not only preserved but also reinforced the solidarity of the infant panth and put it on a track, which led towards self-assertion and development of a distinct personality.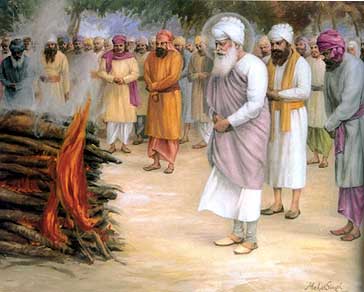 The cremation rites of Guru Angad being performed by the new Guru Amar Das
Nanak was aware of his sons' rejection of Angad as his successor, and anticipating their hostile reaction, he directed Angad to return to Khadur. Although the devoted Angad was reluctant to leave Nanak and wanted to remain with him until his last breath, he obediently agreed and returned to Khadur.
It was sometimes afterwards that Angad took over the duties of Guruship entrusted to him by Guru Nanak. His pangs of separation from his dead master left him in a state of grief and lamentation and he had locked himself in solitude in a room near Khadur. It was with the persuasion of Baba Budha and other Sikhs that he was compelled to come out of seclusion and concentrate on the duties entrusted to him by Guru Nanak. There is a very heart rendering salok which he uttered at that moment, which shows his deep love and affection and obedience of Guru Nanak,
'Die before the dear one thou lovest……'
An episode of Satta and Balwand, the minstrels, whose ego led them to think that they were indispensable in their rendering of music carries a lot of importance in Sikhism, as because of their defiance, the art of Gurmat Sangeet was introduced by Guru Angad. These brothers were of the convictions that the Guru depended on their musical skills to run the Panth, but the Guru banished them and asked the Sikhs to sing the hymns of Nanak. This was the turning point in history where the Sikh World was introduced to Gurbani and Classical Music. Although the minstrels were pardoned and their saloks were added to the Adi Granth later on, but the 'sangeet tradition' was already imbedded in the minds of the Sikhs. And this tradition became the backbone of the Sikh fraternity.
Guru Angad's daily routine started with devotion, penance and austerities and he was completely engrossed in His Name. The rendering of Nanak's banis in the congregations was a regular item and another very significant tradition developed during his time, the tradition of Langar or common kitchen, which is the essence of Sikh Panth. His wife Mata Khivi was on the forefront of this venture that provided food for the pilgrims and wayfarers. Although this tradition was prevalent during Nanak's time but its development happened especially during Angad's time.
Guru Angad's teachings involved around the teaching of Nanak, whose commands requiring devotees to 'to eat the fruit of their labour and bestow something', was preached and practised by Guru Angad himself as he earned his own living by twisting the course twine made of 'munj'. His other interests included watching wrestling matches, as he was of the conviction that his spiritual mission should be fortified with development of physical vigour, which were an essential needs of a householder's life. In other words the combination of 'Bhagti and Shakti' is very fundamental to a Sikh in his venture to salvation.
A noticeable new elaboration that the Sikh traditions attribute to Angad is the invention of the Gurmukhi alphabet. And according to the Tawarikh Guru Khalsa, the invention took place on Baisakh sudi panchmi, 1597. According to Macauliffe, "the Guru was so elated with the adoption of a new character for the hymns of his predecessor, that he composed a hymn addressed to God which was found recorded in an ancient manuscript at Khadur. The hymn itself, however, contains no reference-direct or indirect-to the invention or adoption of a new script."
And furthermore Guru Nanak composed the 'patti' in Rag Assa, which contains all the 35 letters of the alphabet, hence called 'Penti' (35). Some attribute this patti to Angad but it occurs in Mahalla 1, which exclusively points it to Nanak. It is clear, therefore, that the alphabet known as 'Gurmukhi' was in existence and also in common use in those days of the first Guru, otherwise the Guru would not have used it had it been alien or obscure. This can be surely said that the thirty-five letters of the 'Penti' in the present form is attributed to the genius of Guru Nanak. Guru Angad is responsible for the evolution of the 'Gumukhi' language and it gave the Sikh nation a new sense of independence and self-confidence. They could now write not only their sacred hymns but also their secular literary compositions and ordinary correspondence in a script that was their own in a distinct sense.
Another notable achievement during Angad's time was the writing of the Bala Janamsakhi. Guru Angad got the services of Paira Mokha, a Sikh from Nanak's time, who was literate in Gurmukhi to prepare the biography of Guru Nanak. For this the help of Bhai Bala, a devout disciple and partner of Guru Nanak and who had accompanied the Lord on many of his divine journeys, was called from Kartarpur. With the help of these two the 'Bhai Bala Janamsakhi' came into being. Although the original copy is extinct now but copies of it are available and though the modern researchers do not give much credence to it, but never the less it remains a very important work of hagiography in the Sikh faith.
Guru Angad died at the age of forty-eight on 28th March 1552 AD after a relative brief term of the pontificate. The infant Sikh Panth could hardly have maintained its integrity and advanced towards solidarity if he had not worked with full devotion and his firm belief in the grace of the Almighty. A devoted and pious disciple was discovered in Amardas, who was found worthier to carry the spiritual torch of Nanak in the further development of the Sikh Nation towards the advent of the Khalsa Panth in 1699 AD by the tenth master Guru Gobind Singh.