Under Phula Singh's earlier leadership, and perhaps befor his rise, the Akalis had become a terror to friends and for alike, and the Sikh chiefs, from whom they often levied contribution, dreaded them by force. Ranjit Singh, after 1823, ddid much to reduce their power, and the order lost its importance.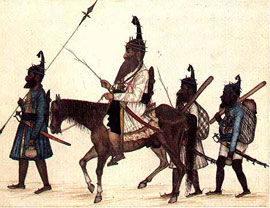 Akali Sikhs on the march
The Akali headquarters were the Akal Bunga at Amritsar, where they assumed the direction of religious ceremonies and the duty of convoking the 'Gurmatta'; indeed, they laid claim to exercise a general leadership of the Khalsa. Since Ranjit Singh's time Anandpur has been their real headquarters, but their influence has to a large extent passed away, and some of them have degenerated into mere buffoons.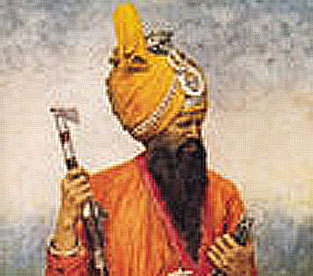 As an order the Akalsi are celibate. They have , says Trumpp, no regular chief or disciple, yet one hears of their Guru, whose leavings are eaten by their disciples (sewak or chela). They do not eat meat or drink spirits, as other Sikhs do, but consume inordinate quantities of bhang.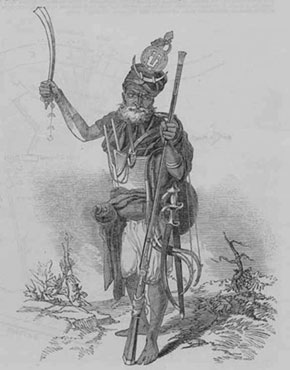 A painting done in 1846 of a Nihang Chieftain