SRI CHAND, BABA (1494-1629), the elder son of Guru Nanak and the founder of the ascetic sect of Udasis, was born to Mata Sulakkhani on Bhadoh sudi9, 1551 Birami /8 September 1494 at Sultanpur Lodhi, now in Kapurthala district of the Punjab. After Guru Nanak left home on his travels to distant parts, Sri Chand's mother took him and his younger brother, Lakhmi Das, to her parents' home at Pakkhoke Randhave on the left bank of the River Ravi. Sri Chand from the very beginning loved solitude and, as he grew up, he developed indifference to worldly affairs. At the tender age of eleven he left for Kashmir where he studied Sanskrit texts under Pandit Purushottam Kaul and later studied and practised yoga under Avinasha Muni. When Guru Nanak, after his travels, had settled down at Kartarpur on the right bank of Ravi and not far from Pakkhoke, Sri Chand rejoined the family. He however retained his preference for the life of an ascetic.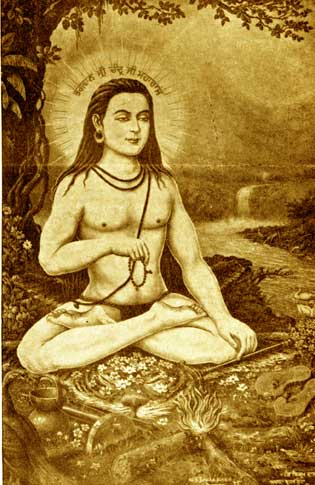 Guru Nanak having chosen one of his disciples as his spiritual successor, passed away at Kartarpur on 7 September 1539 and a monument was raised over the site where his ashes were buried. As the monument was washed away by floods in the river, Sri Chand had the urn containing the ashes salvaged, reburied it at some distance close to the well of Ajitta Randhava, a devotee of the late Guru, and built a mud hut over it. The place came to be revered as dehra or samadh (mausoleum) of Guru Nanak around which grew up the present town of Dera Baba Nanak. Baba Sri Chand stayed on at Pakkhoke Randhave for some time. He gathered around him a band of his own disciples who like him shunned the householder's life and practised austerities. With his disciples he travelled throughout the length and breadth of India, initialing more converts to his Udasin or Udasi (lit. indifferent, stoic) sect who functioned as itinerant preachers and established missionary centres at different places in the country and beyond. Through them Guru Nanak's word was also carried to far corners of the land. Baba Sri Chand's own main centre was ti Barath, 8 km southwest of Pathankot in Gurdaspur district of the Punjab.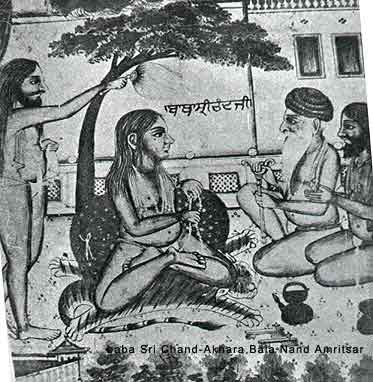 Baba Sri Chand also kept in touch with successive Gurus during his long life of well over a century. The Gurus held him in high esteem in view of his holy descent, old age and piety. In 1626, when at the behest of Guru Hargobind, his eldest son, Baba Gurditta, proceeded to found the town of Kiratpur in the lower Sivalik hills, he had the ground broken by Baba Sri Chand. According to the Bhatt Vahis, Baba Sri Chand died at Kiratpur on Magh sudi 1,1685 bik/ 13 January 1629. Before that he had, with Guru Hargobind's approval, appointed Baba Gurditta to succeed him as head of the Udasi sect.
Article with courtesy of Harbans Singh from 'Encyclopaedia of Sikhism'.
Baba Sri Chand Ji believed that Sri Guru Nanak Dev Ji was the Divine light of the Almighty and in Praise of
the Eternal Glory of
Sri Guru Nanak Sahib he uttered this AArta
Aarta Keejai Nanak Shah Patshah Ka
Har Har Deen Dunia Ke Shehan Shah Ka
Aarta Keejai ...

Char Kunt Jaki Dharamshala
Sangat Gawey Shabad Rasala
Aarta Keejai ...

Kot Devi Jaki Jot Jagaway
Kot Tetees Jaki Ustat Gawey
Aarta Keejai ...

Chhinwey Kror Jakey Charan Pakhaley
Chand Surai Jaki Jot Ujaley
Bhaar Athharah Jaki Pohap Ki Mala
Param Jot Satgur Deen Dyala
Aarta Keejai ...

Pawan Rai Jako Chawar Jhulawey
Rikhi Muni Jako Dhian Legawey
Aarta Keejai ...

Panj Parwan Hai Satgur pura
Bajey Shabad Anahad Toora
Aarta Keejai ...

Ghanta Bajey Dhun Onkara
Adhar Akhand Jako Jhilmil Tara
Aarta Keejai ...

Srichand Bakhaney Satgur Nanak Poota
Agam, Agad, Adol, Awdhuta
Aarta Keejai ...

Jo Jan Nanak Shah Ka Aarta Gawey
Basey Baikunth Param Gat Pawey
Aarta Keejai ...

Saran Parey Ki Rakh Dyala
Nanak Tumrey Bal Gopala
Aarta Keejai ...