A glowing tribute paid by Prof Pritam Singh in this article taken with courtesy from the website http://www.pingalwaraonline.org - the website containing details of the excellent work done by Bhagat Puran Singh and successfully carried on by his successors.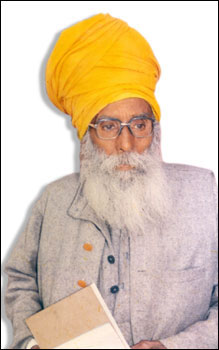 Throughout his life Bhagat Puran Singh (above) remained a living legend in the state of the Punjab. He was the modem version of Bhai Kanahayya, the founder of SEWA PANTHI, the Indian precursor of Red Cross.
Bhai Kanahayya was a Sikh of Guru Tegh Bahadur, who outlived his Guru, and joined the entourage of Guru Gobind Singh. The Bhai took upon himself the duty of providing clean drinking water to the Guru's camp. In one of the Sikh-Mughal skirmishes, he was found offering water to the injured personnel of the enemy along with Sikh soldiers. The Sikhs who did not like him go on reviving their enemies dragged him to the Guru for suitable action. To their amazement, the Guru not only blessed him for his true perception of the Sikh faith but also gifted him a tin of antiseptic ointment for the benefit of those who needed it the most. Since then, the SEWA PANTHI Sikhs have been known for their humanitarian services, which transcend all barriers of colour, caste, creed and country.
Bhagat Puran Singh, though never enrolled himself formally as a member of the SEWA PANTH, represented in practice, the same spiritual and moral values that Bhai Kanihayya had under the guidance of Guru Tegh Bahadur and Guru Gobind Singh. An unscheduled visit to his Pingalwara (The Refuge of the handicapped) conceived and founded by him in Amritsar, will show how the compassionate soul of this saintly person had spread its protective wings over hundreds of unfortunate persons suffering from incurable diseases with no relatives to look after them. The Pingalwara provides asylum to the physically handicapped, the mentally retarded, the completely deranged, besides the derelicts and the forsaken women and children. For such people, Bhagatji's unique institution remains a charitable hospital, rather a nursing home, with free medicines, boarding, lodging and clothing. Any man, woman or child, coming from any part of the country, whom society had thrown out of its pale, was sure to find in him, a welcoming godfather. For him all persons suffering from physical or mental ailments were human beings in distress needing immediate succour. Once I wanted to know whether he had any religion wise record of inmates of his Pingalwara, his reply was that he had never cared to work it out that way, but he could tell with certainty that non-Sikh inmates outnumbered their Sikh brethren.
"And what about the religion-wise ratio of the contributors to your 50 Lakh annual budget ?"
"May be, 90 percent or more among the contributors are Sikhs, but, as I told you earlier they are all God's children. I have never cared to find any percentage religion-wise".
Time was when Bhagatji used to go about seeking shelterless, succourless people, for care. He reached them wherever they were. In fact, that is how he started his career of service in Lahore. He picked up a forsaken polio-stricken child from somewhere and for the next 14 years, a long, lanky, poorly dressed person with unkempt beard, moving about in streets, with a growing boy seated on his neck, became a familiar scene for the people of Lahore. Since then the situation has changed tremendously. The patients are now provided with better perches than human necks. 'The wards of the spacious, double-storied Pingalwara overflow with patients. He ate the same food as was provided to all the inmates and more often than not slept on the floor using the same blankets over and under him. The days take their toll but the sage still listens to Gurbani at half past three in the morning.
When I visited the Pingalwara a few years ago, there were more than 300 inmates, including 125 mentally deranged women and six unclaimed newly-born babies.
Bhagatji never went in for matrimony. His decision to remain single was deliberate and probably correct because the vocation that he had chosen required total dedication. No marriage could have survived the stresses and strains that he had to undergo during his life. He decided not to allow the domestic complication of martial life to stand in the way of his unusual commitments.
"Who was responsible for driving you to this life of a roving mendicant ?", I asked him out of curiosity.
"God himself', he said and continued thus; "Born as Ramji Das, in a rich money-lending Hindu family of Village Rajewal, Tehsil Samrala, District Ludhiana, I was to experience quite early in life, extreme poverty after the business of my father collapsed. I managed to study up to matriculation, but my mother had to wash clothes and dirty linen of other people to enable me to pay my school fees. At Lahore my contact with the Head Granthi of Guru Arjun's Dera Sahib Gurdwara at Lahore, Bhai Teja Singh by name, confirmed my decision to dedicate my whole life to the most satisfying avocation in the world--alleviation of human suffering, howsoever small the measure of one's contribution.
I have swept the excreta of patients with my own hands and I do so, even now- I have picked up banana and other fruit-skins from the roads and do so even now; I have carried mud and bricks on my head for the upcoming buildings of Pingalwara and am ready to do so even now; when I am running into my 82nd year I have begged food for the inmates from door to door and do so even now. I sit outside the Golden Temple and other Gurdwaras in sun and rain and collect money for my Ashram. I do not feel ashamed for all this. Infact, I get in return affection and respect. I have no personal demands but my demands for Pingalwara are unendingly enormous. Perhaps you do not know that a sizable chunk of my time is taken away by my other activities relating to the inculcation of social and ecological awareness among our people and that requires money, which I collect from the public. My demands, howsoever heavy, have always been met generously by the public because people are confident that behind my craze for collection lies an unselfish and noble cause. Mine has been a full and meaningful life -- as Guru directed Godward journey, through the service of humanity"
Meeting Bhagatji was always an instructive experience. Still full of energy and upto date with ideas, culled from books and newspapers, he had a socially relevant advice for everyone: "Plant trees, do not cut them," and then followed an informed lecture on the economic and ecological advantages of trees. "Always travel by train; avoid bus travel", and then he went on to tell you how deleterious to health the Carbon Monoxide exhausts are and painted an alarming picture of the steeply mounting toll of human lives in road accidents; "Beware of the impending doom of our beautiful world by nuclear and other arms," and then you heard from him a hair-raising description of the devastating prowess of the malignant fission of atomic nucleus; "Produce less children", " Do not throw fruit skins on the road," and the list of such Do's and Don'ts went on and on.
Bhagat Puran Singh was a voracious reader. He employed three readers to provide him with cuttings of socially useful and informative writings from national newspapers and journals and reproduced them on any sort of paper in his own press in the form of handbills, booklets, pamphlets, etc., for free distribution among his people. Books published by him, such as biographies of Guru Nanak and Guru Gobind Singh and the English translation of the Japji of Guru Nanak, all by Professor Narain Singh and some of them covering as many as 500 pages, were distributed free, in spite of the fact that the amount spent on them ran into lakhs of rupees. "Money comes to me in driblets from people. I give it back to them in the form of character-building and nation building literature", explained Bhagat Puran Singh in justification of this expenditure.
It is not easily possible to sum up a multi-dimensional institution that Bhagat Puran Singh surely was, in one introductory article. Had the information media of our country been a little more observant of the constructive and inspiringly voluntary servants of society, instead of over-indulgence in the game of inflating and deflating by turns, the political actors, there is no reason why Bhagat Puran Singh's name should not have been the common property of the whole world, like that of Mother Teressa's.
Bhagatji's body is no longer with us but, there is no doubt that his shining example will continue to serve as a model for generations to come. Let us all pray that God may grant long and purposeful life to his successor, Dr. Inderjit Kaur who seems determined to carry forward the torch lit by Bhagatji.
Prof. Pritam Singh 2, Preet Nagar, Lower Mall, Patiala - 147001