EVEN as the smokescreen resulting from the fire at the Sikh Reference Library, Harmandar Sahib Complex, refuses to clear up even after 21 years of Operation Bluestar, the community seems to have overlooked 'plundering' of the equally important Sikh History Research Department (SHRD), Khalsa College, till 1984 by its 'own people'.
While the Sikh community has been fighting a long battle to get back its "intellectual treasure" from the CBI, no effort has been made to find out the invaluable treasure, belonging to the SHRD, pillaged by its own caretakers till 1984, coincidently the year of the infamous army operation.
The rarest of rare material was taken away covertly and was later shown "written off" in the records.
The main objective of establishing the SHRD was to preserve the collection of historical material pertaining to the history of Punjab beginning from the year 1469 - the birth of Guru Nanak. A large sum of money was spent in acquiring the material from various places in India and abroad. Fired with missionary zeal, its founders had left no stone unturned to build this department, the only one of its kind where source material regarding the Sikh history has been preserved. The department was enriched by strenuous and sustained efforts of its stewards like Dr Ganda Singh and Dr Kirpal Singh.
A year before the establishment of this historical department, a meeting was convened on December 22, 1929, at Akal Takht and a society was formed. Sardar Karam Singh, a historian, was nominated its first secretary. Dr K.S. Bajwa, head of the department, says that though Sardar Karam Singh died on September 30, 1930, the proposal was not given up by Khalsa College which announced instituting of the department at a meeting held at Guru Ka Bagh (Harmandar Sahib) to mark the Shardhanjli Samaroh of the great Sikh historian (Karam Singh) the same year.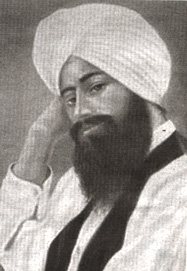 S. Karam Singh Historian
A rare sketch of Maharaja of Patiala in Sikh History Research Department.
Ranjit Singh Nanda, a retired Central Bureau of Intelligence inspector, has made a startling disclosure that the rare manuscripts, hukam-namas (edicts), books, and other materials of the Sikh Reference Library were taken in gunny bags and big trunks to an unknown place after Operation Bluestar. But no such disclosure has been made about the material stolen from SHRD. The material seems to have been taken in small handbags clandestinely over the years. No one suspected the caretakers and dared check their handbags. However, Dr Bajwa, saved many invaluable books from being written off when he took over in the year 1996.
The rare material taken away stealthilv (shown written off) included Sikh memorandum to the Punjab's Boundary Commission (original document), Janamsakhi Shree Guru Amardass, Urdu book Sher-e-Punjab, Sikhism and its relation to Hinduism, Sketch of the Sikhs, Hindu superiority. Congress and Labour Movement in India, Dissertation of proper names of Punjabis, Oriental records by R.W. Harries, report on the settlement in the district of Kangra by GC. Bames, History of Hindustan by Dow Alexander, History of the War in Afghanistan by N. Charles, British period Gazetteers of Delhi, Hisar, Jalandhar, Lahore and Ludhiana. Another invaluable book written off is Islamic Culture. Maps of old Punjab, Bahawalpur, report on the reserve land revenue, speeches and writings of Mr Jinnah, too, are missing.
Dr Daljit Singh and Dr K.S. Bajwa take stock of the damage done to cannon dating back to the medieval period of the Sikh history.
Understanding the significance of the department, the new Principal, Dr Daljit Singh, immediately posted more staff members with a viewto restore its old glory. He announced that the paucity of funds would not come in the way of strengthening the department. He said it was his moral duty to take all necessary steps to preserve the heritage material, collected with great efforts in the past.
The SHRD, established in 1930, has a collection of rare paintings of Sikh rule and British era, old newspapers, journals that are dexterously arranged in the museum. The department has rare coins and weapons of the 17th and the 18th centuries (matchlock, dhaal, Katar, chakkar, bows and kirpans), says Dr Bajwa, who is also the curator of the museum.
There are many manuscripts in Persian, Gurmukhi and Hindi, which can only be found in Khalsa College's 75-year-old library. Out of more than 6000 books, more than 500 are century-old. The repository also includes exclusive photographs of women jumping into wells to save their honour during Partition riots, the portraits of Nankana Sahib tragedy, pictures of Raagmala in bright and beautiful colours, old Birs of Guru Granth Sahib.
A portrait of Sardar Karam Singh, who mooted the idea of establishing Sikh History Research Department in 1920s.
Shocked to see fresh paint on small cannon belonging to the period of the Sikh rule, Dr Daljit Singh said that efforts would be made to restore the original design of the weapons. He says microfilming of the brittle papers of many manuscripts may be done on priority basis.
Presently, there are 590 manuscripts in the repository in various languages. This includes manuscripts in Punjabi (287), Urdu (42), Sanskrit (9), Persian (207), English (45), newspaper files and magazines, photographs, paintings, weapons, coins and books published by the department.
In the mid-15th century, things began to change with the advent of the printing press. In 1452, Gutenberg (Germany) conceived the idea of movable type. However, the early publications of the standard printing presses could be rare feast for the eyes of a researcher. A casual visitor may be surprised to find rare printed books in the department. The Physician Guide, published in 1682, and many rare publications of the medieval period have been -preserved in their original form here.

Article courtesy 'The Sikh Times' 28th July 2005