Akali Phula Singh was born in 1 761 in the village Shinh in Bangar area, in the present day district of Sangroor. His father, Sardar Ishar Singh of Nishanwala Misal, was seriously wounded in the Great Holocaust in 1762, and died shortly thereafter. Akali Phula Singh was deeply religious from early child-hood. He joined an order of Nihangs, also described as Akalis, the immortals, at an early age and became the leader of this devout band of reckless fighters. Akali Phula Singh did not marry. He settled down in Amritsar, where a burj (tower) and a dayra called Nihangan di chhaoni still stands in his memory. He had dedicated his life to the care of Sikh shrines and loved to serve people in accordance with the Guru's message.
In 1802, in response to the request of the leading citizens of Amritsar, and to make Amritsar part of his domain, Maharaja Ranjit Singh laid siege to the city. The city was in the hands of Bhangi Misal chiefs. Both the forces faced each other and were ready to shed blood. Akali Phula Singh was dis-tressed to find Sikh forces engaged in fighting among themselves. After consulting the respectable citizens, he marched out along with them and stood between the opposing forces. He succeeded in persuading them to stop fighting. The Bhangi Sardars surrendered one by one, and the fort of Amritsar passed into the Maharaja's hands.
At the request of the Maharaja, Phula Singh joined his army along with 3,000 Nihangs. They were well known for their daredevil courage and their freedom in speaking their mind. Akali Phula Singh was a fierce and selfless warrior. He participated in many battles, and every time, distinguished himself by his outstanding courage and fearlessness against the heaviest odds, as at Kasur, Multan, and Naushera. Ranjit Singh owed many victories to the glorious valour of the Nihangs.
Phula Singh died fighting near Naushera in 1823, where, across the river Kabul, his memorial still stands as a witness to his undying chivalry.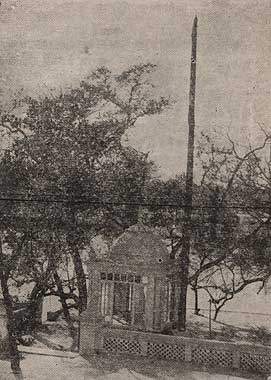 The tomb in memory of Akali Phula Singh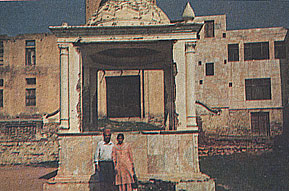 The tomb as it is now
It was in this battle that Akali Phula Singh's fearless troops took the lead and, without a moment's thought, plunged their horses in the swollen and turbulent river. Everyone, including Maharaja Ranjit Singh, followed suit. Akali Phula Singh was in the midst of the severest fighting. A deadly hand-to-hand fight took place between the Nihangs and the Ghazis. Akali Phula Singh was wounded in the thigh and could not stand. He bandaged his wound and rode back into the thick of the battle on horseback.
(photo courtesy royal asiatic society)
Then he got more wounds and his horse was shot under him, so he climbed into a howdah and drove the elephant into the midst of the enemy. The Ghazis could now see the man who had humbled them so often. They fired at him from all sides and riddled his body with bullets. He collapsed in his howdah, exhorting the Nihangs with the last breath of his body, not to give way. The news of his death fur-ther infuriated the Nihangs. They gave no quarter to the enemy. The Ghazis could not stand the Nihangs' charge. They got disorganised and took to their heels, leaving their 4,000 dead, or dying, in the bafllefield saying: "Toba, toba-, Khuda Khud, Khalsa Shud" (God forbid, but it appears, God himself has turned a Khalsa!). (Courtesy Dr. Santokh Singh-The Guru's Word)